Anime Dimensions was developed and directed by cool bulls for Albatross Games Created on June 23rd, 2021. With anime Dimensions, you can travel through your favorite anime worlds and defeat anime-themed bosses. You can collect anime characters and unlock new dimensions. To boost your character, use cards from different dimensions.
Game Information
| | |
| --- | --- |
| Game Name | Anime Dimensions Simulator |
| Publisher(s) | Albatross Games |
| Developer(s) | Coolbulls |
| Release | June 23rd, 2021 |
| Genre(s) | Simulator |
| Platform | Roblox |
In Anime Dimensions, you can explore familiar lands from your favorite anime series, take on tough bosses in epic battles, and collect numerous characters and dimensions along the way. If you love Dragon Ball, My Hero Academia, One Piece, this is the Roblox game for you.
List of Anime Dimensions Mobs
The mobs in Anime Dimensions are enemies that must be defeated in order to clear a Dimension.
Arrow Demon
Beast
Category:Mobs
Coffin Assassin
Coffin Crusher
Combat Demon
Crimson Demon
Decay
Emmu
Fighter Curse
Finger Bearer
Fist Curse
Giant Titan
King of Curses
Melee Titan
Metal Fist Villain
Monstrous Titan
Plated Titan
Rock Titan
Soul Shaper
Sword Villain
Symbol of Evil
Yazaka (Boss)
List of Anime Dimensions Heroes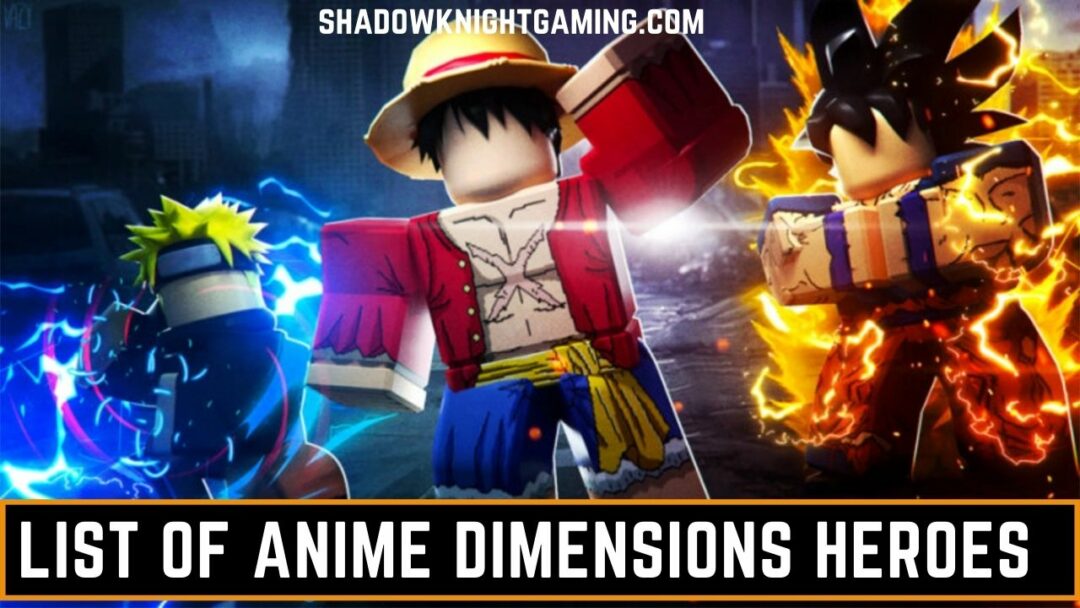 You can buy heroes in the shop for gems. You can also earn them by leveling up or by getting daily rewards. Each character has four skills, one M1 attack, and one dash attack. As a new player, you will be required to choose one of the five starter heroes: Reku, Fluffy, Nardo, Ichini, and Roku. Each of these heroes can be bought in the shop for 50 Gems or obtained through dimension drops. Listed below are all of the Heroes in the game:
Akuma (Shinra)
Alis (Character)
Alturia (Artoria)
Asana (Character)
Bakubro (Bakugo from My Hero Academia)
Broccoli (Character)
Cherry (Sakura)
Cyborg (Genos)
Eugebro (Eugeo)
Fluffy (Luffy)
Hatsu (Natsu from Re Zero)
Heroes
Hirito (Character)
Ichini (Ichigo)
Itabori (Itadori)
King of Curses (Character)
King of Heroes (Character)
Kirua (Killua from Hunter X Hunter)
Kodotoki (Todoroki)
Koneki (Kaneki)
Meguretsu (Megumin)
Nardo (Naruto)
Nardo (Naruto) Six Paths
Nojo (Gojo  from Jujustu Kaisen)
Pasta (Asta from Black Clover)
Priestess
Ramura (Rimuru)
Ray (Gray)
Reku (Deku from My Hero Academia)
Rokia (Rukia)
Roku (Goku)
Ryuka (Ryuko)
Shield Man (Naofumi)
Susky (Sasuke From Naruto)
Tall Might (All Might)
Tengoku (Rengoku from Demon Slayer) 
Tokushibo (Character)
Tonjuro (Tanjiro from Demon Slayer) 
Toro (Zoro)
Yazaka (Akaza)
Zetsu (Zenitsu from Demon Slayer) 
List of Anime Dimensions' Dimensions
Curse Dimension
Demon Dimension
Ghoul Dimension
Sword Dimension
Titan Dimension
Villain Dimension