Rolex is the most popular PUBG Mobile Gamer from the United States. He is a pro-PUBG Mobile player who also streams PUBG Mobile on his YouTube Channel.
Rolex
Guillermo Jimenez
Personal information
Born
November 28
Country
United States
Nationality
American
Career information
Games
PUBG Mobile
Esports Team Name
SSG Mobile
Esports Team History
2019-06-26 – Present SSG Mobile
In-Game Name
Rollexxx
Esports Earnings
$12,860
Role:
assaulters
SSG Mobile Roster
IGL
Juicy
Team Members
Angry, Juicy, Rollexxx, BeachBanana
Management
Spacestation Gaming
Sponsors
Champion, Scuf Gaming, B&H Photo Video
YouTube information
Channel
Rollexxx
Start
2011
Years active
2017-present
Subscribers
188K
Total views
35,848,408
Silver Play buttons
28 Jun 2019
PUBG ID
514589102
SOCIAL MEDIA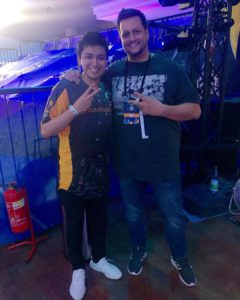 Guillermo Jimenez A.K.A Rolex is a professional PUBG Mobile from the United States of America and he is one of the strongest gamers in the United States. He uploads videos about Pubg game only on his youtube channel. His youtube channel name is Rollexxx and His PUBG id name is also Rollexxx. Guillermo made his youtube channel on 26 July 2011. Rollexxx plays PMCO PUBG Mobile Global Tournament in 2019. Guillermo got the award of NA Regional Champion for PUBG Mobile. Rolex is best known for his rush and intense gameplay. He has also seen playing with PowerBang Gaming, Soul Mortal, and Soul Nova in PUBG Mobile. He was officially a leader of the esports team Lights Out woned PowerBang Gaming.
Read More: RRQ D2E Wiki, Age, Real Name, Country, PUBG ID, Girlfriend & More
Carrier Results
Date
Placement
Tier
Tournament
Team
Prize
2020-03-01
9th
Minor
PUBG Mobile Club Open – Spring Split 2020: North America
$0
2019-11-15
1st
Minor
ESL Mobile Open: Atlanta
$9,240
2019-10-20
6th
Major
PUBG Mobile Club Open – Fall Split: North America
$4,000
2019-10-13
6th
Qualifier
PUBG Mobile Club Open – Fall Split: North America Semi-Finals
$500
2019-10-03
10th
Qualifier
PUBG Mobile Club Open – Fall Split: North America Group Stage
$600
2019-09-08
11th
Premier
PUBG Mobile Star Challenge 2019
$5,000
2019-04-21
16th
Minor
Omlet Arcade Championship Season 2
$100
2018-12-01
14th
Premier
PUBG Mobile Star Challenge 2018
$2,000
2018-10-21
1st
Qualifier
PUBG Mobile Star Challenge 2018 – North America
$20,000
2018-08-18
1st
Minor
PUBG Mobile Player Well Known Invitational Tour 2018
Some Facts About Rolex
Guillermo is an American Gamer.
He started his youtube channel in 2011.
 He got NA Regional Champion Award. (National Regional Champion of PUBG Mobile)
He player for Lightsout, Cloud9
He is a good friend of Soul Mortal
Previously he played for Lightsout Clan
Most Searched Questions about Rolex
Q.Who is Rolex?
Ans: Rolex is a Famous American Mobile Gamer and streamer. He is famous because of PUBG Mobile.
Q.What is the real name of Rolex?
Ans: Guillermo Jimenez.
Q.Which phone does Rolex use?
Ans: Rolex uses Razer Phone 2.
Q.How much does Rolex earn from YouTube?
Ans: Approximately $5000.