Bawonchai Han, better known as RRQ D2E, is a Thai Professional PUBG Mobile player and streamer. He is a member of RRQ Athena, which is one of the biggest Mobile Esports Teams. Bawonchai Han wasn't always a part of RRQ. He started his career by playing for Burnout and later joined SOS Athena before finally moving to RRQ Athena. Presently, RRQ D2E is regarded as one of the best PUBG Mobile players in the world.
D2E
Bawonchai Han (บวรชัย ฮัน)
Personal information
Born
31 Oct 1995
Nickname
Dee
Birthplace
Bangkok, Thailand
Career information
Games
PUBG Mobile
Esports Team
RRQ Athena
PUBG ID
512269986
In-Game Name
RRQ D2E
Esports Earnings
$125,803(Estd)
Role:
Sniper
RRQ Athena Roster
IGL
G9
Team Members
Beer11, D2E, Earnny, G9, Senior
Management
RRQ Athena
Sponsors
Omlet Arcade
YouTube information
Channel
RRQ D2E
Joined
11 Sept 2018
Years active
2018-present
Subscribers
391K
Total views
26,239,008
Silver Play buttons
28 Jun 2019
Gold Play buttons
Not Yet
SOCIAL MEDIA
INSTA rrq_d2e
RRQ D2E Biography
Bawonchai Han (บวรชัย ฮัน) is a 24-year-old professional PUBG Mobile player from Bangkok, Thailand. Better known by his in-game name D2E, Bawonchai is a permanent member of one of the biggest mobile esports corporation, Rex Regum Qeon or RRQ (hence the name RRQ D2E).
D2E uses the four-fingers claw technique and is known for his exceptional sniping and close combat skills. Han's skill has won him a nickname – the killing machine of RRQ.
Han has represented RRQ in various official PUBG Mobile tournaments like PMSC, PMCO, Crew Challenge, Indonesia tournament centre, and more. One of his greatest achievements came in the year 2018 when Team RRQ won PUBG Mobile Star Challange 2018 global finals.
Bawonchai started his youtube channel, RRQ D2E Esport, in 2018 after winning the PMSC 2018 regional. After PMSC global finals victory, RRQ D2E Esport reached 100k subscribers in a few days. D2E regularly streams PUBG Mobile on youtube channel using his iPhone 8plus.
The skills and reflexes of this 24-year-old guy are incredible. D2E has consistently been a conqueror player in many seasons, with an outstanding KD ratio. Here is a quick look at D2E's esports carrier.
Carrier Results
Date
Placement
Tier
Tournament
Team
Prize
2019-12-14
2nd
Premier
PUBG Mobile Star Challenge World Cup 2019
$60,000
2019-12-01
7th
Premier
PUBG Mobile Club Open – Fall Split Global Finals
$8,000
2019-11-03
1st
Major
PUBG Mobile Club Open – Fall Split: SEA Championship
$35,000
2019-09-08
1st
Premier
PUBG Mobile Star Challenge 2019
$100,000
2019-07-28
4th
Premier
PUBG Mobile Club Open – Spring Split Global Finals
$20,000
2019-06-30
1st
Minor
PUBG Mobile Thailand Championship 2019: Miramar Division
$2,666.67
2019-06-23
1st
Major
PUBG Mobile Club Open – Spring Split: SEA Championship
$30,000
2018-12-09
1st
Minor
Fighting League 2018 – Thailand
$7,117.22
2018-12-01
1st
Premier
PUBG Mobile Star Challenge 2018
$200,000
2018-11-24
1st
Major
PUBG Mobile Star Challenge 2018 – Asia
$20,000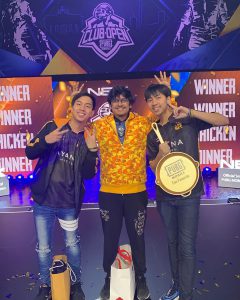 Read More: Soul Mortal Wiki, Age, Real Name, Country, PUBG ID, Girlfriend & More
Known Facts about RRQ D2E
RRQ D2E hails from Thailand.
So far, Han has won 90% of PUBG Mobile tournaments that he participated in.
D2E has a twin brother. Bawonchai Han is the younger one.
Han's girlfriend's name is Tonfon Natchaya Keadmongkon.

D2E with his girlfriend