This Free fire Beginners guide has all the info, Tips, and Tricks that you can use to get started with Free Fire.
Garena free fire is a battle royale game. It is developed by Vietnamese game company 111Dots studio and published by Garena for both Android and iOS. It is becoming a very popular game due to its amazing layout and gaming experience as the entire game is so thrilling and captivating. This game stands in a different section of interest among users because of its accessibility. 
This article is a guide for those who are very new to this game. Below instructions and guidelines will help them to proceed easily with the specifications of the game and can also empower their gameplay techniques. 
Free Fire Features 
This game has a lot of different things that make it unique in comparison with all other battle royale games available. 
GRAPHICS
This game even has a sensitivity adjustment. This means no matter how low your device is you can easily adjust the graphics as required. 
MAPS/MODES
Garena free fire has launched lots of different maps for battle like BERMUDA, PURGATORY, and ALPINE also each of them has different surroundings to hide, camp, and combat.
This game has four main modes, RANKED, CLASSIC, CLASH SQUAD, and LONE WOLF. Other modes depend on the events launched by Garena. 
CHARACTERS
Free fire offers a wide range of different characters with various skills which makes this game so interesting. Some characters are even based on real-life celebrities. 
WEAPONS
Weapons are the most important part of any battle royale game. And in this regard, Free fire takes very strongly and gives different powerful weapons with different abilities of their own along with unique skins that give them advanced power against opponents. In the game, players with gun skins dominate more than those who don't. 
PETS
One unique feature that Free Fire offers is the availability of pets. Pets are the best friend of every character you choose because, in this game, even pets play a vital role in the battles they too carry special skills that enhance the abilities of characters even more.  
EVENTS
Garena never misses out to gather audiences throughout the globe. This game respects every aspect of religion and traditional values every country has. And that's the reason why every event in this game is theme-based which demonstrates the values of every nation. Also, events carry different aspects, some of them give you free skins and some new characters give gun skins. Players who don't have any special items can gather those from events. 
ROOM CARDS
There is a CUSTOM ROOM CARD available in this game in which players (from the m same or different regions) can play against each other to decide who dominates. 
MAGIC CUBE
This cube is a very special and rare item in free fire whose demand always remains high among the ff community. Why because a magic cube offers the rarest and most badass bundles that only veteran players have and Garena features this cube only in some special events.  
LUCKY ROYALE
This feature is for those players who don't want to spend diamonds on clothing or weapons. For this, players have to collect vouchers to spin. Good thing is that this royale is updated every month with new amazing stocks. There are four royals available in free fire, DIAMOND, GOLD, WEAPONS, and INCUBATOR. All these carry a unique voucher through which players can spin to win items. 
TRAINING and SOCIAL ZONE
There is a training center in this game where players can train themselves for better gameplay and also where they can try the performance of their characters and gun skins. A social zone is where players from different areas can have conversations with each other. 
CONTROLS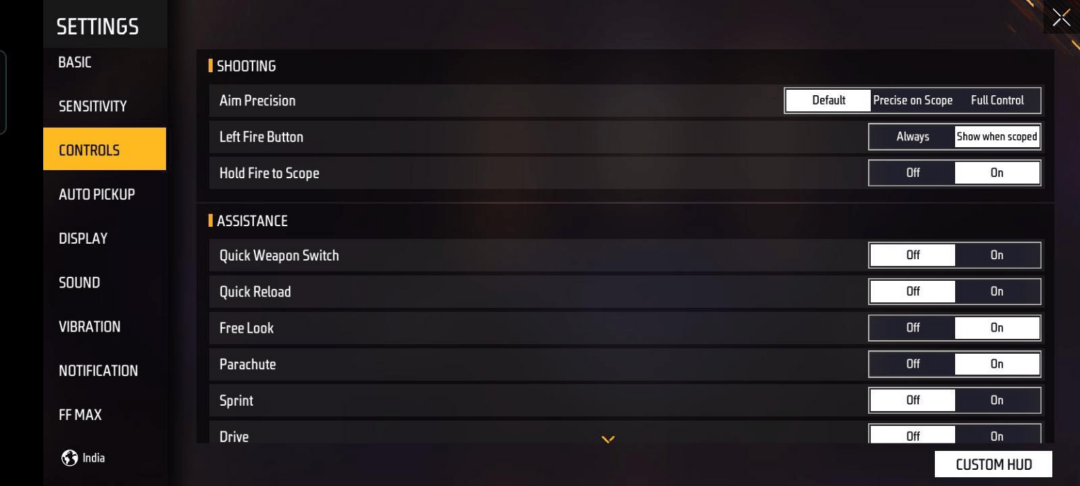 Free fire has easy controls but different scenarios to adjust your settings according to your gameplay behavior. Unlike any other games, this game's features are the same throughout any device (Pc, mobile, etc). This game has two control segments, one is for the normal adjustments and the other one is for the advanced adjustment which depends on the devices the user is playing on. And also there are several other options available for convenience. 
GAMEPLAY 
Free fire is one of the most popular battle royale games in India and it very well deserves to be so. The game's control is similar to any other battle game but yet so different that many players took time to adjust to free fire when PUBg was banned in India. 
Free fire for Beginners: Tips to Improve your game
CHARACTERS SELECTION
It is okay to say that choosing a wise character in the battle is a worthy move and this game gives a wide range of different characters with different abilities. In the initial stage, there are two default characters to start with, ADAM and EVE. Other characters have to be unlocked by completing missions or spending diamonds. So it's better to know your gaming technique and spend diamonds on that particular character to suit you the best. 
WEAPONS SELECTION
There are a lot of different types of guns available in this game and each of them has its own attributes and use. Therefore it is very much useful to select weapons according to their attributes. Players should use a combination of guns during their battle (Long + Short range). This can save them from opponents who are far from them or close. Always have one weapon for long distance (AR and Snipers) and one for close combat (SMGs and Shotguns) and players can also opt for melee items to protect them from behind.  
AIM AND FIRE WHEN IT'S RED
At the start, while playing you might have noticed your aim turns red when fired at the opponent. This happens for a short time. This is the very important part as you have to shoot only when it's red. It becomes very much important when you are trying to aim at your enemy when they're showing movement. All you have to do is have patience and shoot immediately at your enemy when it turns red. 
KEEP SHOWING MOVEMENT FOR DISTRACTION
Every battle game is a mixture of intelligence, skills, and the ability to focus on different things at a single moment. When you are in the middle of any combat, try not to stand idle and shoot, keep moving and distracting. Many players don't move during the fight, as they want to focus on their enemy but, at the same time, they give an open opportunity for others to take advantage of this. It is important to kill your opponent but it is most important to survive till the end. Try to make it a habit to shoot while keeping moving. 
USE GLOO WALL
After choosing characters and guns, now comes the proper usage of gloo walls. These walls are the barrier that protects you from sudden attacks and gives you enough time to take action after observing the circumstances. Although gloo walls give a limited amount of time to think and react, it is recommended to use robo as a pet because it creates a force field that not only exceeds the time limit but also reduces the damage taken from bullets. The gloo walls can also be used as a distraction against your opponents as they focus on firing on the wall trying to break it down giving you the opening to crawl away unscathed. But if your movement is fast, you can also take advantage of this situation to counterattack. 
BE PATIENT
Free fire is a game of both fighting in being calm at the same moment. It's not only that you see an opponent and start firing even if he can dodge them easily. To be the last man standing and to take booyah you need to be very clear about the timing of indulging yourself in any combat. Have patience, know when to fire and victory is yours. Always take cover while fighting, this gives you some time to restore health when dealt with severe damage. 
BE CAREFUL WITH ZONES
Zones are the most time-based damage that every player in this game gets stuck with, it's inevitable. Players should have valuable items and enough ammo to stand till the end of the match while playing any mode. For this, players have to gather loot from the very start, because they need to survive. Also, those players who already have gathered enough loot must use them wisely so that it becomes easy to stay in the end zones. 
 ALWAYS BE READY FOR A COMBAT
Beginners always make the mistake of avoiding fights and hiding. They should always take charge of any situation. It is the right way of playing and winning any battle game. You might struggle in the initial stage but eventually, you will develop a strong mentality and great combat skills. 
TAKE ADVANTAGE 
It's good to stick around places with higher ground. This will help you to take your target easily and with no loss. Also, keep focusing on the places with lots and more fighting. You can easily take advantage of that as players in the middle of combat forget to take cover from all sides and leave themselves open. 
AIM FOR THE HEAD
Everyone knows that the head is the main part of your body. If it's injured, you are half dead. The same complies in the game too. Try to target the head instead of the body as the head has got more damage taken than the rest ( even with helmets). Practice dragging on the training ground as this will increase the chances of aiming towards the head. 
HAVE A GAMEPLAN
This game is strictly based on gaming skills and perfect squad strategies. Without this, you can't hold out for too long. You need to have good coordination with your teammates along with an excellent tactical game plan to survive with a good kill ratio. Always stick with your teammates as they'll be able to help when you get caught in the middle of a firefight or get knocked. 
NOTE: All the guidelines mentioned above are totally basic and for beginners. It depends upon the player and his gaming skills and how he uses these techniques for a better gameplay experience. 
This Free fire Beginners guide has all the info, Tips, and Tricks that you can use to get started with Free Fire. Garena free fire is a battle royale game. It is developed by Vietnamese game company 111Dots studio and…
Like the playable characters, Pets too have a huge impact on the gameplay. Pets in Free fire are like friends in real life that boost your day-to-day life with their skills and different abilities. This game has several unique features…
The latest GARENA Free Fire Elite Pass 'Fabled Fox,' now features a classic story. It is a tale of two gang leaders and their thirst for vengeance. Free Fire is a popular Battle Royale game that needs no introduction. Like…