This article includes a brief introduction of Immortal Summoners, the latest working Immortal Summoners codes, and how to redeem them. 
The developer of Immortal Summoners is the Kyoo Games. The game was released in November 2021 and is available for free on both the Playstore and AppStore.
For those who don't know, Immortal Summoners is an adventure and action Role-playing game. What makes Immortal summoners stand out from other RPG games is the fact that the players can build a small township and maintain the township. 
This township includes several buildings like a guild, bounty energy rune, hall, temple, archives, trail tower, shrine, tavern, market, arena, honor hall, exploration, origin circle, abyss, and many more.
In Immortal summoners, the player is supposed to summon epic heroes and fight evil. These heroes can belong to different categories like saint, vampire, hunter, orcish, angel, and demon.
As the player gradually levels up through the game, he/she can unlock hundreds of heroes from these categories.
What are Immortal Summoners Codes?
In Immortal Summoners, the players can buy various items for their township and even summons of their desired heroes with the help of diamonds and gold. However, it's not always easy and possible to rely on gold and diamonds alone for such expenses. So, the developers release some codes from time to time to help players in their gaming experience.
You can redeem these codes to get free rewards such as gold and diamonds.
Where can you find Immortal Summoners Codes?
These codes are released on random social media pages and websites.  Moreover, these codes are time-limited. So, if you don't want to miss out on the freebies, you have to heavily search the internet ASAP to find these codes before the time runs out.
To save you guys from all the hassle, we at Shadow knight Gaming are always on guard for any such releases of gift codes by the developers. We keep uploading and updating these codes as soon as they are released.
List of Immortal Summoners Gift Codes / Redeem codes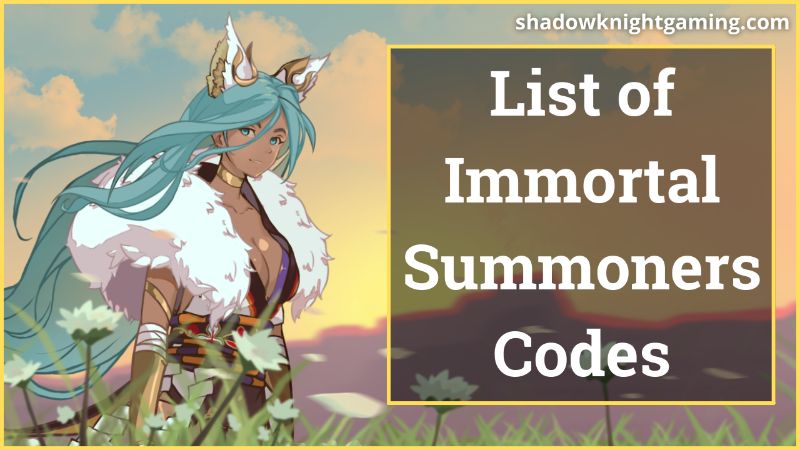 Active Codes
jbZDsfVi2t – [ Reward: Clam this gift code for diamonds and other exclusive rewards – (Valid until December 13th, 2021) ]
vipgift – [ Reward: Claim this gift code for 40 Draws ]
summonergift – [ Reward: Clam this gift code for diamonds and other exclusive rewards ]
discord – [ Reward: Claim this gift code for diamonds and other exclusive rewards ]
line – [ Reward: Claim this gift code for diamonds and other exclusive rewards ]
Halloween2021 – [ Reward: Claim this gift code for diamonds and other exclusive rewards ]
Expired Immortal Summoners Codes
c254ea3f60
7705326d85
6bba3dc4fa
3d9d700988
50f4a17d48
738009ceb9
550679c963
7ad660835e
How to Redeem The Gifts in Immortal Summoners?
Redeeming the gift codes in Immortal Summoners is pretty easy and a very quick process. Just follow the steps given below and you can collect your gifts.
Start the game (obviously)
After the main screen appears, click on the profile icon, placed at the top left corner of the screen. After this, you will get a new pop-up window.
On the new pop-up window, click on the 'others' option and then click on the 'CDK' option.
A new pop-up will appear and ask you to enter the redeem code. Enter the code and press confirm to receive the rewards.
That's it! But do remember to type the code as it is, or else, the system might not detect the code and you may not receive the gifts.
For more such fun-filled articles, do subscribe you our newsletter and to stay updated on the codes, bookmark this page.
You can also opt-in for notifications from our website by hitting the bell icon at the bottom right. That way you will be notified automatically every time we update the Immortal Summoners codes list.
FAQ
When were the latest Immortal summoners codes released?

All the codes in the article were updated this month

Is Immortal Summoners free to play?

Yes, it's free to play.

How many factions are there in Immortal Summoners?

There are 6 factions in Immortal summoners.