A very warm welcome to the King of Avalon wiki. Here in this article, we will go through everything you need to know about the game King of Avalon!
King of Avalon is a fantasy game based on the story of medieval times legend of King Arthur and the Knights of the round table.
The game involves building a great city, raising a great army, mastering the skills of wars and strategy, training your dragon and that's it makes victory over your enemies.
King of Avalon is developed by FunPlus and it has a total download of more than 50000000. The game was released on 14 July 2016 on android and iOS.
Game Details
King of Avalon Gameplay
The legendary King Arthur has been killed by the demons and Morgana the leader of demons, wants to establish her control over the kingdom of Avalon. You have to wage war against demons and protect your city from them. For attacking, you can train your troops which includes bowmen, cavalry, etc.
The best thing about the game is that we can get our DRAGON. Sadly, we can not ride them but yes, we can use them for attacking and defending your empire. We have to use our dragon wisely and strategically it makes a great influence on our performance. We can train our dragon as well for different purposes.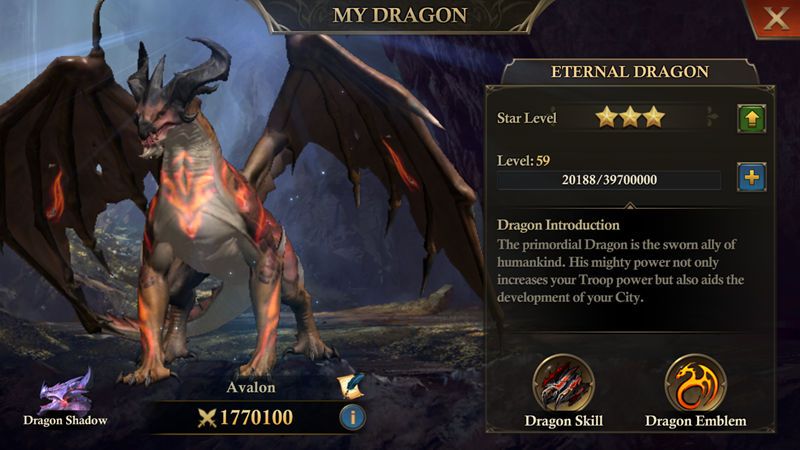 To get your dragon you need the Dragon Flame Orb, hatch them and train them and then your dragon is ready for the war. Go ahead and save your city!
Also Read: Improve your Gameplay with these King of Avalon Tips and Tricks!
Features
King of Avalon also offers you a multiplayer option. To play in multiplayer or with your friends you have to make your alliance or join any alliance.
There is much more fun in playing multiplayer. You can train your troops to attack other's cities or your enemy of the alliance, defeat them earn EXP and many more things.
There are also many events like alliance war which will increase your interest in-game. In an alliance war, you have to fight with other alliances defeat them and earn rewards.
Characters
There are many characters in King of Avalon. Some of the most notable ones are –
King Anguish: Master of war.
Maleagant: Master of strategy.
King Arthur's Soul: Master of strategy.
Vortimer: Master of Arms.
Sir Tor: Master of war.
Tristan: High constable.
Resources
If you are playing king of Avalon, resources are very important its consumption should be wise else the end of your game will be more difficult. Mainly the resources you need will be iron, silver, food, and wood. These all resources can be built in the different buildings.
Buildings
There are primarily 4 different categories of building in King of Avalon.
Resource Buildings
Farm: This building is used for food production.
Sawmill: This building is used for wood production and storage.
Iron Mine: This building is used for iron production and storage.
Silver Mine: This building is used for silver production and storage.
Storehouse: This building is used for production of the resources stored in it from enemy raid.
Troop Building
These buildings are used to train troops. It includes Barracks, Stables, Range, Workshop, Trap Factory, Military Tent, and Hospital.
Alliance Building
This is an important building and it helps when you join an alliance to take troops from other members.
Stronghold
The most important and the main building of the game.
Continue reading with King of Avalon Gift Codes – Get free rewards in King of Avalon!