Marvel Future Revolution Tier List lists all the best heroes in the game and ranks them according to their strengths and weaknesses.
Players are constantly looking for a complete Marvel Future Revolution Tier List that contains vital details of their favorite hero. The characters are ranked according to their powers and in-game skills.
The gaming community is loving the all-new RPG from one of the biggest superhero creators on the planet. Marvel Future Revolution is now available on Android and iOS devices where you can interact with multiple heroes of the fictional world.
Moreover, users dive into the immersive experience of 3D graphics and interactive storylines.
As you know, every hero has unique abilities and powers that can be useful during the battle. However, it is important to understand the game mechanics to help you win over the enemies.
We are here to give you a quick overview of their strengths and weaknesses to create a stable playing style. Some characters are overpowered while others require appropriate timing and moves. Thus, make sure to go through our exclusive Marvel Future Revolution Tier List and know more about your hero.
Marvel Future Revolution Tier List (PVP)
To get a better understanding of the game with – Marvel Future Revolution Wiki
Best Characters in Marvel Future Revolution
Now, let's look at the basic description of every character in the game. This will help you learn more about the hero and use his attacks accordingly, especially if you are not a Marvel enthusiast.
Captain America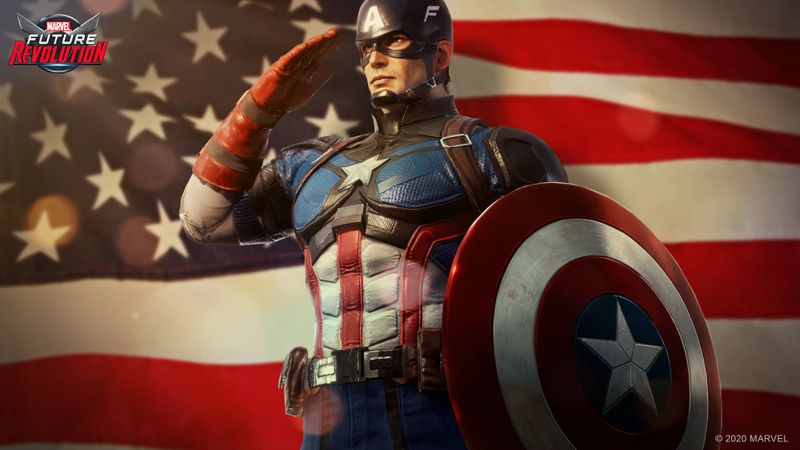 Captain America is known to be the first hero-cum-soldier who is the result of super serum created during the war. However, he is the first Avenger, a group of heroes to fight against the villains.
He is an ideal choice as you will learn the fundamentals of the game. novice players will easily get hold of the controls and other configurations to attack or defend.
Iron Man
Apart from wearing a metal suit, Tony Stark is a genius, playboy, philanthropist. The Iron Man Suit is one of his biggest achievements and upgrades it to fight against strong villains. It is quite obvious that he would be the first choice to play in the Marvel Future Revolution. Make sure to check out his new gadgets and win battles along with your friends.
Black Widow
Natasha Romanov, one of the last remaining Black Widows from the Red Room is a major part of S.H.I.E.L.D. There is no doubt in the fact that she is a veteran Avenger that can defeat enemies with her tactical skills.
If you are a fan of PVP game mode, Black Widow is a great choice. Although, she is just a normal human with a lot of hand combat experience.
Also Read: Marvel Future Revolution Codes – Here is How to get Free Rewards in Marvel Future Revolution.
Captain Marvel
We have yet another captain in the game, Captain Marvel. The backstory is quite different from Captain Rogers as she got her powers from the explosion of an Alien tech. according to the game stats, she is the highest damage dealing character.
Hence, you can give some serious blows to your opponents and win the game. We recommend it for single-player modes as she is quite powerful.
Spider-Man
As the name suggests, Spiderman has special powers that allow him to stick to walls and throw webs from his wrists. All of this began when a radioactive spider bits him during his visit to the Osborn Lab.
You can control his web-slinging techniques and master them to keep your enemies busy. Don't forget that he can dish out a lot of hitpoints and win in the game.
Start Lord
Star-Lord is the leading member of the Guardians of the Galaxy and is known for his silly jokes. He is originally born on Earth but was later taken into space by his father's friend, Yondu. If we talk about his performance in the Marvel Future Revolution, there is nothing extraordinary about the character.
However, many players love casual gaming with Star-Lord and have fun.
Doctor Strange
Who thought a doctor could become the Time stone keeper and control the entire multiverse. Well, this is what has happened in the case of Doctor Strange. He has special powers that help him to protect the Universe from mystic villains.
You can upgrade this character and earn more XP rewards in the later stages of the game.
Storm
Storm is the only character that belongs to the X-men universe of Marvel. She can use her power to control the weather, especially colossal thunderstorms. As of now, Storm is not a game-winner and has lesser hitpoints.
You need to be extremely precise with the timing to land a strong blow on the enemy. Therefore, players need a lot of practice before picking her up in the game.
Conclusion
So, this is all about our Marvel Future Revolution Tier List and various characters in it. We hope you get a better understanding of the heroes that you will get a chance to play with. Every character is strong and you can pick them according to your playing style.
---
More Articles
If you are looking for Marvel Future Revolution Codes to earn free rewards, this guide is for you. The players in the community tend to redeem gift codes and get various perks. There is no doubt in the fact that Marvel Future…
After the massive success of Marvel Future Fight, Netmarble (the developer behind Marvel Future Fight) and Marvel Studios have yet again come together to create a new open-world RPG mobile game, Marvel Future Revolution. But what can we expect from…