Do you Love MOBA games? Here are the top MOBA games you can play on your ios and android device.
Long before the release of the original iPhone when the term "Android" was only associated with human-like killer robots that will end humanity one day, MOBA games were played on PCs. Years later, after the developmental progress of android games started to take off, MOBA Games stated to gain popularity in the mobile gaming segment as well.
Long time MOBA players loved the idea of having their games on their cellphones all the time. And thus, to this date, MOBA is considered one of the most popular and preferred game genres in the mobile gaming industry and the number of new titles is swelling rapidly.
What is Mobile MOBA?
MOBA stands for Multiplayer Online Battle Arena, in which two teams take part and play.
Introduced initially as a subgenre of real-time strategy, MOBA games best described as a fusion of role-playing, real-time strategy, and action games.
In the game, both teams attack their opponents and defend their team bases. Players need to keep the team identity and progress intact by attacking and taking control of the opposing team's stronghold.
Each player gets to choose a hero of their choice that fits their mood, playstyle and situation.
A lot has changed over the years, and Multiplayer Online Battle Arena games are now treated as a genre in itself that is very popular on mobile devices.
Top 6 Best Moba Games For Android & iOS:
The following are the top 6 best mobile MOBA. These are listed below. Let's check it out:
---
Vainglory:
Price: Free
Available On iPhone, iPad & Android
Vainglory was initially released in 2015. Unlike Bang Bang, this game is new in the mobile gaming industry. It provides you with a variety of about 25 different heroes. It has various games of varying time limits, out of which one is a full five or five, another one is a fast game that can be set for 7 minutes while another game can be set for 25 minutes or so. What makes Vainglory interesting is the cross-platform introduced in 2018 in which a player can play the game on mobile and with friends on PC at the same time. Though Vainglory was introduced later, this game has got fame in quite a short period. It has become some of the best MOBA because of its variations of heroes, variety of modes, game sets, time, and speed. It gave Vainglory popularity altogether.
Download On Playstore!               Download On App store
---
Mobile Legends: Bang Bang
Price: Free
Available On iPhone, iPad & Android
Mobile Legends is the oldest mobile MOBA that is also the most played game around the world. Garena makes it. This game provides several heroes to choose, five or five formulas that create excellent battles, fast simulation, and simple controls. It has a maximum time limit of 10 minutes for each contest. That is to say that it comes with short but decisive battles. Since there are opponents from all over the world, Therefore, it also provides a test program that makes it easy for the players to choose the right hero for their battle, it helps them to decide whether to buy some particular hero or not.
Mobile Legends continues the journey of success with millions of downloads. Still, the only drawback that players find is that most of the heroes are quite expensive to buy, especially the ones that are newly introduced.
---
Arena of Valor:
Price: Free
Available On iPhone, iPad & Android
Arena of Valor is one of the new MOBA known for its good variety of options in-game sets, modes, and heroes. There are different game sets in five vs five, three vs three, and one vs one game. One can easily make his choice according to the time and condition. Moreover, more than 40 heroes from which one can choose any of his picks for the game. It also has a feature of multiple co-op players that one can opt for.
While in three or three and one or one mode, there is an option for unique wars having an appealing gaming mode through which one can secure the place or area on the map locations of the game. This fantastic variety in heroes, ways, and game sets became a cause of its worldwide fame. The only complaint that has been received about this game is logging into Facebook. Other than that, Arena of Valor has no other flaw or drawback.
---
Onmyoji Arena:
Price: Free
Available On iPhone, iPad & Android
Onmyoji Arena is like other MOBAs but with a few exceptions. This game has a three-dimensional combat mode compared to the three to three-mode, which is surprisingly excellent and chaotic. In Onmyoji Arena, the character is a big part of the game, and remarkable talent and voice play with the usual five vs. five features. What sets Onmyoji Arena apart is its amazing graphics and animation that often be able to grab the attention of the players. While few drawbacks of the Onmyoji Area include delay in loading the screen and the storage space it requires. It is one of the excellent kinds of MOBAs otherwise.
---
Paladins Strike: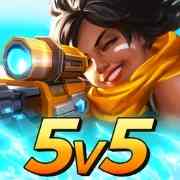 Price: Free
Available On Android
Paladins Strike, which is one of the latest 5v5 MOBA games, though it is not like the other MOBAs it has some other different features. The essential components of the Paladins Strike include five and five fast matches and multiple game modes. It does not provide a wide variety of heroes or champions but whatever options it gives helps the players to excel their expertise. The major drawback of Paladines Strike is it does not have a wide range of heroes to select from. So, it is a massive issue for players who like to progress faster and better. This set limits for them. But with this feature of this game, one can quickly learn to exercise control on each champion or hero.
---
Heroes Arena: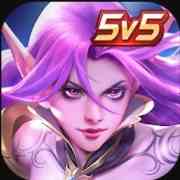 Price: Free
Available On Android
Heroes Arena is a quite popular MOBA, but it is the actual sort of MOBA. The game offers one vs. one, three vs. three, and five vs. five modes. Moreover, there is also a list of heroes from which the player can select his favourite hero for the game. Heroes Arena allows the player to avail and uses specific options while not leaving the game. It has a variety of 20 heroes and divided the game modes into six different classes. All in all, Heroes Arena has come like one of the most successful MOBAs that players can easily enjoy.
---
Conclusion:
Though the MOBA Android market is not too as vast as racing or action games, this genre has got quite popular in the mobile gaming industry. MOBA has progressed a lot over the years and thoroughly revived how games were played and enjoyed. They even successfully established a platform for e-sports where different people use their skills to earn greater rewards and enjoy various games.
I hope you like this article. Share this with your friends and especially with the game lovers. Don't forget to hit the bell icon to keep updated with our splendid upcoming content.
Best Of Luck!