My Hero Academia: The Strongest Hero beginners guide is for new players who are just starting with MHA and looking for tips to progress in the game quickly.
My Hero Academia: The Strongest Hero is an action RPG game based on the world-famous manga and anime series – My Hero Academia. The game features all the characters of the series – villains, teachers, and students of U.A. High School.
About the Game
The game – My Hero Academia: The Strongest Hero has developed a great excitement in the audience of the series, it has given them a chance to train their favorite characters and enjoy the story of the series in their own way.
Developers have also included a cutscene at the beginning, showing the story behind the game and introducing the characters as well, for those who are unaware of the storyline. Players have a choice of skipping the cutscene but if you do so, you will lose 100 Hero Coins.
Heroes and Modes of My Hero Academia: The Strongest Hero
MHA: The Strongest Hero has all the characters from the series "My Hero Academia" but initially, most of the characters will be locked for you. As your level in the game increases, more and more characters will start to unlock.
Players start with Deku (Izuku Midoriya) and the game gives players 4 summoning tickets for free that you can use to summon more heroes.
The three characters are most likely to get are – Izuku Midoriya, Denki Kaminari, and Eijiro Kirishima.
The heroes in MHA are classified into different tiers according to the modes and each hero comes with four different skills and there is also an attached passive ability with them. You can know more about the best heroes to use by reading My Hero Academia: The strongest Hero tier list.
Players in the game are required to make a group of 3 heroes for fighting the battles.
The game is generally played in three modes:
Solo – Here the characters fight with the villains chosen by the players. They are required to participate in combat training, story campaigns, and night operations.
Co-op – In this mode, a character can team up with any two random characters in the game and fight battles against the opponent. However this mode is not available in the beginning of the game.
PvP – Players, in this mode, participate in 3v3 battles and get rewarded on victory.
There is also a timed mode but that unlocks after you reach Agency Level 25 so we won't talk about that in this article.
My Hero Academia: The Strongest Hero Beginners Guide – Key Tips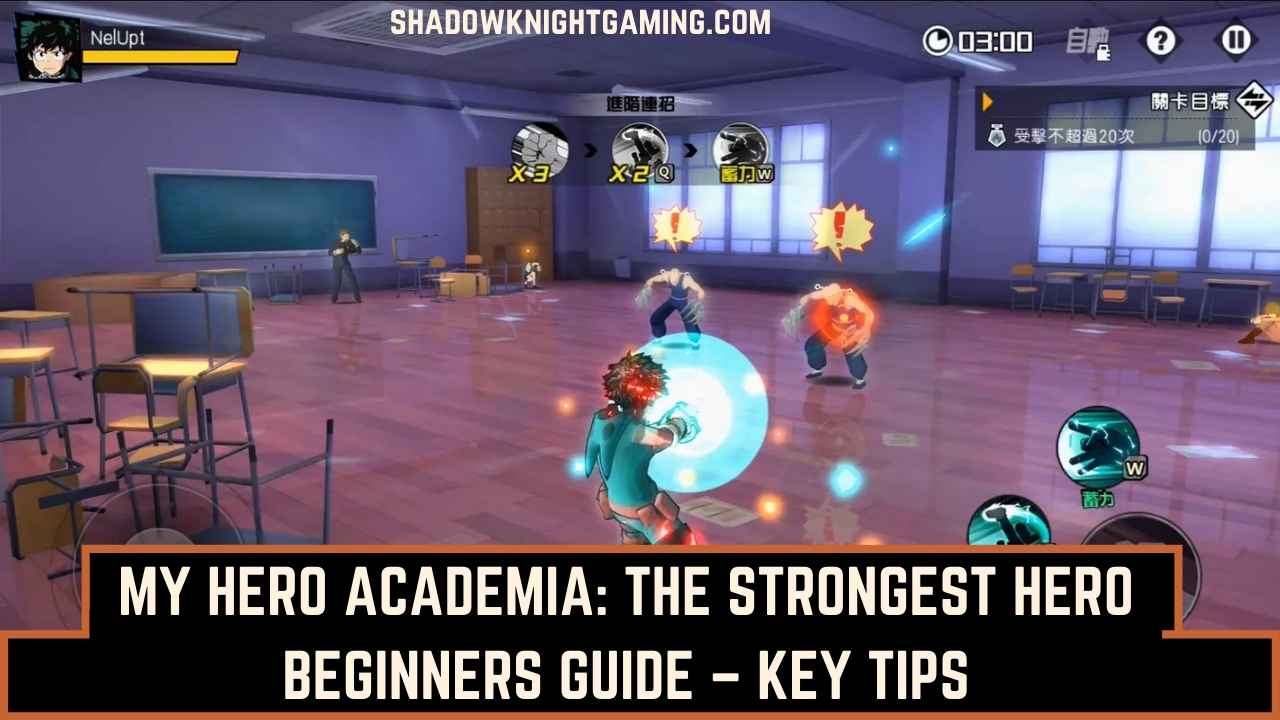 1. Free Stamina each day
Stamina is necessary for survival in the game. You can get free stamina every day.
Timings are scheduled for this purpose from 12:00 to 14:00, 18:00 to 20:00, and 20:00 to 22:00. You need to log in to the game every day at these times and boost up your stamina.
You can get tokens and free energy by visiting the dorm every day and completing events.
You can claim stamina from friends up to five times. To ensure you get maximum stamina, add as many friends as possible.
2. Completing the Missions
Complete your daily missions and targets to gain rewards and increase your collection of characters. You can also participate in co-op battles which occurs 5 times a day to collect Hero coins.
3. Using Hero Coins efficiently
Utilize the hero coins wisely and collect a lot for new events. Participate in co-op battles by using hero coins and earn more coins after winning.
4. Reroll to get higher tier heroes
Rerolling means acquiring a new hero through gacha pulls. Getting an extra character (apart from the previous three) at the beginning of the game can be quite beneficial for you in long run. You have to take care that rerolling a new character from gacha mechanics is quite difficult as hero shards can also be pulled.
5. Become part of a team
For most RPG-based games, forming an alliance open up lots of benefits. You can take part in an alliance-exclusive training session. You can also participate in team-related activities to earn coins and get various rewards.
6. Complete the goals for rewards
Completing the goals can make you earn rewards and hero coins. All you need to do is go to the goals page and complete your daily and weekly goals.
7. Complete your daily quests and side missions
Whenever you are out of energy, you can perform daily quests and side missions and enhance the city's prosperity level. This will earn you rewards. You should complete your daily quests first as these are for a limited time and then you can jump over the side missions. It is advised to check the magnifying glass icon, to claim your rewards.
8. Special events
There are many time-limited events but they have some unique rewards. We can get these rewards through 4 event icons( exclude the top icon) on the upper left side of the screen. These events are Peacekeeping Event, Hero Trial Assemble event, and Trainee Benefits. All three can earn you rewards on participating without costing anything.
End Note
We hope you liked our article "My Hero Academia: The Strongest Hero Beginners Guide".
For more information like this from us, stay tuned! Also, hit the bell icon on the bottom right of your screen to allow the notifications from Shadow Knight Gaming.
We have many more articles on My Hero Academia: The Strongest Hero for you such as My Hero Academia: The Strongest Hero Codes that will get you free in-game rewards. So, don't forget to check those out!