After covering the launch of Rocat Jumurr, by MOUSETRAP GAMES, we decided to try out another game called Run the Beat by the same developer. So, after spending a weekend with it, here is our full review.
Run the Beat is a 2D adventure, runner-arcade for mobile devices, where players run to catchy background music and overcome obstacles/enemies to complete each stage. The game is the first premium title of the developers and was released on 25th June 2020.
Other games developed by MOUSETRAP GAMES includes the likes of 96%: Family Quiz, W Poszukiwaniu Browaru.
Plot
Noty is a mixtape loving cute magical creature with unique abilities. During a stroll through the forest, our hero comes across an evil wizard who steals his prized headphones away. Now it is up to the players to help Noty on his quest to take back his headphones so he can enjoy his favourite jams again.
Gameplay: Run the Beat
video credit: Mousetrap Games YouTube channel
In this game, music is not just some songs playing in the background; rather, it is the very core of the gameplay. Each of the levels has a distinct tune that is synced with the obstacles, and it helps the players time their actions through tempo and beats.
Read| Warhammer Quest: Silver Tower Pre-registrations Open before Mobile Launch
Moreover, the game presents a vibrant world comprising of many beautiful hand-drawn levels full of obstacles, enemies and coins. Depending on the colour of the obstacle/enemies, one has to choose the proper action to go through unharmed. While on easy and normal difficulties, there are only two types of interactions (jump: blue, smash: pink), there are four (jump, smash, roll: orange, turn in smoke: grey) on hard (or above) settings.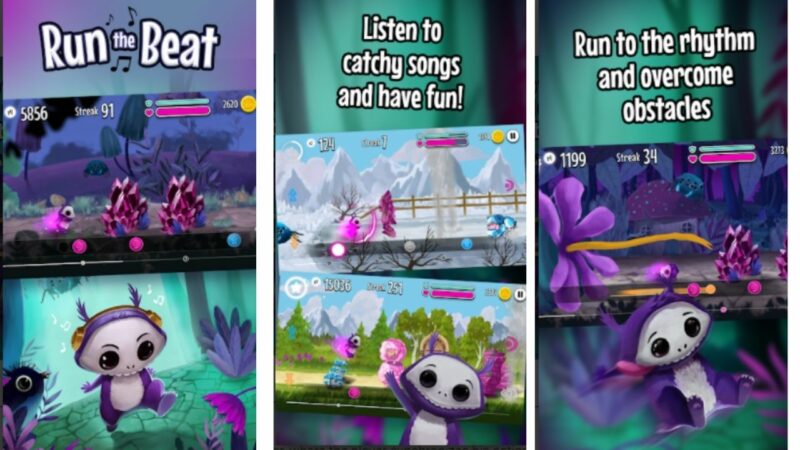 Run the Beat has two different gaming modes, chill and arcade. Both the modes are very similar with slightly different gameplay. Players can freely choose to play on any of them without any penalties to chapter progression. There are also a total of 5 different difficulty levels, namely, easy, normal, hard, very hard and mayhem. Users have to complete a stage on either of the two modes with any difficulty settings to move to the next one.
Conclusion
All in all, Run the Beat was a fun experience for me. The gameplay is engaging, and the art is on par with many good arcades out there today. However, my favorite feature of the game remains its synced music. Sure the game may seem like most other arcades, but this feature indeed makes it feel fresh in the overpopulated genre.
Run the Beat is available as a premium title on the play store and AppStore for Android and iOS users respectively.
More Gaming News:
---
Crazy about Mobile games? Subscribe to shadowknightgaming.com by allowing notification or by Email and get the latest Mobile gaming news, updates, tips, and more before anyone else.