Do you often feel stressed and anxious? Here are a few oddly relaxing mobile games that will help you kick the stress.
Today a lot of folks out there still think that video games make kids more aggressive and violent. However, we at shadow Knight gaming feel differently.
We believe that playing video games can really benefit us. And, to prove our point, we decided to take a look at some mobile games that you can play to free up your mind. Be it anxiety due to a bad relationship, the stress of your job jobs, or any other unpleasant situation.
Best Stress Release/Mind Relaxing Games for Android and iOS
Out of hundreds of antistress and mind satisfying games on the web and other offline games, we have picked the most helpful ones for our readers:
Anti stress, Relaxing, Anxiety & Stress Relief Game – Editor's choice
This is one of the most calming games you can find on the Play Store/App Store. The game is developed by CA apps, so you don't have to worry about its reliability.
You can download and install the mind relaxing games android in a few minutes on your smartphone, and that too for Free.
In this antistress application, you can find more than thirty-five different games. Every game is designed and developed in such a way that it would help you get rid of stress in less than minutes. So, you must try all of them.
Play anywhere you want, and whenever you like!
Bubble Wrap
Bubble wrap is one of the most loved games that can help reduce stress.
Gone are the days where you had to wait to buy something new wrapped in bubble wrap to pop them. Today you can play the bubble wrap game virtually on your smartphones. Plus, you don't have to ever worry about running out of bubbles. Pop as many bubbles as you want to with the free mobile app!
The game also includes and offers tons of customization like, changing the color of the bubble sheet and setting the pop's sound. You can also change the size of the bubble to meet your desire!
Color Break
Color Break is another game that provides great opportunities to release stress from your mind. You can play this game for free and have a lot of fun.
As the name suggests, the game is indeed related to digital painting and coloring. Use your fingertips to color and paint images and other graphic content. With this app, you can focus on creativity and forget about the bad and stressful days.
There is no limit to this game and you can color to your heart's content. If you are someone who loves to draw and paint give this game a go!
Also, you can play this work as the game is super quiet.
Paper Toss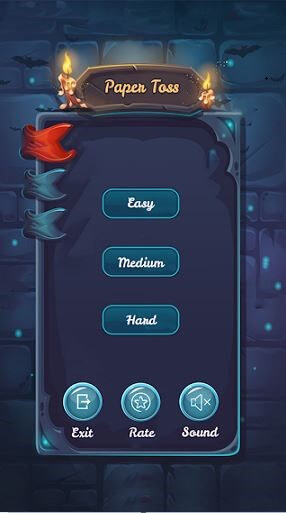 Tossing paper into the trash can be very satisfying. Well, today, you can toss papers into the bin virtually without wasting paper without creating a mess.
The Paper toss app is the perfect stress-buster when you are at your work or home.
Just download the game for free on your smartphone and you are all set. You would be given an unlimited amount of paper balls that you can throw into the virtual basket in the game.
The game has many different levels, and at each level, you have to throw a certain amount of paper balls in the basket successfully. So don't wait and start making shots and throw all sorts of stress off your mind!
Candy Crush
There would hardly be a soul who doesn't know about Candy Crush. It is a match 3 game where you have to make at least three candies/sweets in a row or a column to clear them out.
There are thousands of candy crush levels, and each one is more satisfying but daunting than the previous one. The more you match the puzzles/candies, the lesser they would get, and this feels very satisfying.
Those who play candy crush would say that they cannot live without playing the game. The sound effects and music in this game are quite cheerful and delightful, which relaxes your nerves.
You can play Candy Crush offline by yourself or online with your friends. So, that's a huge bonus.
Conclusion
So, that was our shortlist of Amazing Stress Buster games for Android and iOS that can help you release your stress. If you are having a bad time, go ahead, these games a go! Also, do let us know what you think about them.
Cheers!