Looking for X Hero Idle Avengers Codes? You have landed on the right site! Here is a list of all the latest X Hero Idle Avengers Gift Codes today!
Released in 2020 xhero idle avengers is still one of the most entertaining Role Playing Games out there. With all the new updates and tons of heroes to summon and upgrade, challenging stages with tough bosses, all packed together with a unique comic book aesthetics this game has been a complete package.
However, it's quite challenging to grind with a bunch of heroes and limited items that is where gift codes come into play. We at Shadowknightgaming.com bring a detailed guide about the working codes and how to use them in-game so follow up with the article till the very end.
What are Idle Avengers Codes?
X Hero Idle Avengers gift Codes are serial alphanumeric codes issued by the developers. When a player redeems these codes they get specific rewards.
Idle avenger gift codes are time-limited, they expire after a few days. We keep an eye on the official x hero website in case new codes drop so make sure you bookmark this page.
To avoid any gift code error, please make sure that you enter the gift code as we have displayed in the list below as these codes can be case sensitive.
List of X Hero idle Avengers Codes
Working codes
Jan2022 – (2 scrolls + 300 diamonds)
Latest Gift codes for Idle Avengers
Jan2022 – 2 scrolls + 300 diamonds (Added on 13 January)
NYGIFT – happy new year code
HpyXmas – 10 Christmas candy + 3 God's key (valid until 31 December)
LuckDec – December gift code (Added on 6th December)
Thksday – happy thanksgiving code (added on 25th November)
Nov26 – Redeem code for 300 Diamonds (valid until 26 November)
halloween6 – contains 3 candies (Added on 4th November)
Halloween – 300 diamonds +1 Halloween candy (valid until 15 November)
Goddess123 – Diamond300 + Faction Scroll1
22FULLMOON – Redeem code for reward (Valid until 30 September)
915PNMC – Redeem code for reward (Valid until 30 September)
Expired codes
xherolove (10 Roses, Excellent Faction Scroll)
redpocket
saffronman (100 Diamonds, 1 Hour Gold,
10 Common Summon Scrolls)
sherlou (100 Diamonds, 1 Hour Gold, 10
Common Summon Scrolls)
March (200 Diamonds)
april (300 Diamonds)
estone (500 Enhancement Stones)
diary (500 Diamonds)
How to Claim Rewards using Gift Codes
Step 1: Launch the game
Step 2: In the home screen click on your avatar on the top left corner
Step 3: Click/Tap on the redeem code menu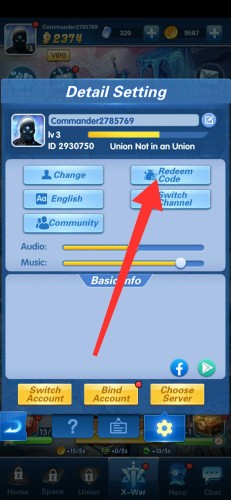 Step4: enter code (case sensitive)
Step5: claim your free reward
How to get X hero Idle Avenger Codes
Xhero idle avenger codes are published on the game's official social media platforms like Facebook, Instagram, Twitter, Reddit, and the game's official Discord.
 The devs publish the gift codes on special events like the game's milestones, popular occasions, collaborations, and special events.
We will update this list with all the new gift codes once they drop. You can turn on notifications for Shadowknightgaming.com to be among the first few players to get these codes.
Also Read: X-HERO: IDLE AVENGERS WIKI
FAQ
Are X Hero Idle Avengers Codes case-sensitive?

Yes, these codes are case-sensitive. Thus you should be extra careful while redeeming them.

How long are Idle Avengers codes valid for?

On average a code lasts for a few days or in some cases they expire after the first 100 users claim them.
About the Game
Xhero idle Avengers is a comic book aesthetic RPG that includes a lot of heroes and automated battle action sequences. Summon your heroes make the perfect team and get ready to take on boss battles.