Welcome to the 2045 wasteland rebuild wiki! Here in this article, we will give you a complete overview and a few extra things that you should know about – 2045 wasteland rebuild.
Let us take you through a detailed guide about the game.
2045 Wasteland Rebuild is a third-person perspective role-playing game where you assemble a team of heroes and become a commander who leads his troops in battle to defend what remains of the wasteland earth.
The plot is set in the year 2045 when a meteor from outer space brought a mysterious virus to earth. The majority of humans were infected and turned into zombies, transforming the world into a chaotic wasteland.
What to expect?
The game provides you with action-packed adventure all through the levels. It does require internet connectivity as it has pretty awesome in-app purchases.
Game Details
| | |
| --- | --- |
| Name | 2045 Wasteland Rebuild |
| Publishers | sygames |
| developers | sygames |
| Mode | online |
| Platforms | android, ios, pc |
| genre | RPG |
Storyline
As the zombie apocalypse continued, the military formed the Argent Dawn, criminals formed the Crimson Dusk, and tribes with powerful immunity to the virus created the Lost Tribe.
Zombies who went through an evolution and developed intelligence were called the Undead Legion. Unwilling to fall behind, the mysterious human lab created a force of powerful droids known as the Future Force. The main boss Eldritch Void had plans to conquer our planet earth.
Gameplay
Starting with your introductory levels you unlock your hero, defeat zombies, go past cutscenes, understand the story and reach level two for more access.
Setting up your account begins your campaign in the game.
Unlock new heroes and new abilities to build your formation.
An easy to build formation:
Use Betty as the main DPS – Betty's ult rain of fire can attack the opponent's entire formation. Anna's atk buff and fury recovery let Betty unleash her DPS burst quickly.
Front row colt casts the defense for the entire team and increases their chances of survival.
Explore the labs to enhance your heroes with new abilities.
With every win you are rewarded with coins and energy which gives you a chance to upgrade your team's abilities and continue playing.
System Settings and Mechanics
The system settings are automatically adjusted according to your device and its compatibility. You can adjust graphics SFX and master volumes according to your comfort.
Game Modes
Challenge
Campaign
Brigade hunting
Apocalyptic guard
Special Game Modes and Other Features
Basic mode – Uses basic energy bars to scan for all heroes.
Adv mode – Uses fine energy bars or gems to scan for all heroes.
Special mode – Uses special energy bars to scan for all heroes of the specified faction.
Precise mode – Scans can find the specified heroes and various items rewards and has a chance to grant a large number of gems
Custom mode – Scans and replace all the elite heroes with custom heroes
Missions
These missions are a pretty efficient way to earn gems and other rewards. Missions are divided into three categories i.e story weekly and daily.
All chat
The game also includes an all-chat feature for players worldwide to talk and strategize.
2045 WASTELAND REBUILD LIST OF HEROES
There are 85 heroes divided as mythical, legendary, and common, each hero has his/her own story and a list of abilities that can be upgraded. Here are a few of them –
Mythical
Legendary
Common
2045 Wasteland Rebuild: Roles and Factions
The heroes have been categorized under 6 factions and 5 roles which would include abilities like healer defense attack DPS units support and tanks.
Shop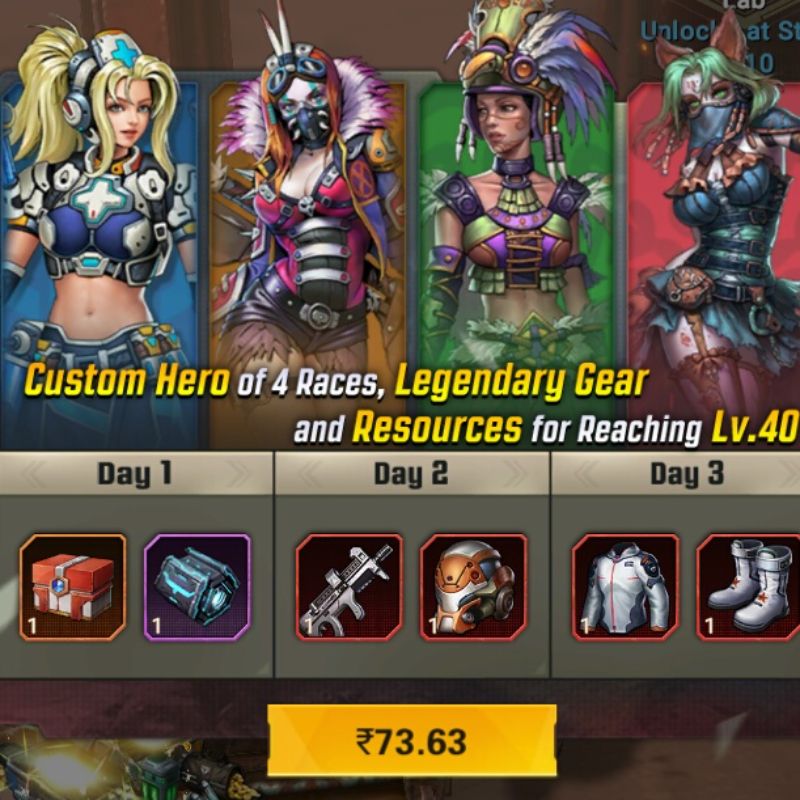 Wasteland Rebuild includes a seasonal pass that can be purchased to get rewards and gems through missions.
The Shop gets updated regularly with the best offers to unlock new heroes, abilities, and gears.
Additional features include the hero popularity charts which can help players know what hero to put in their team according to their current level and campaign progress.