World Cricket Championship 2 announces partnership with Mobile Premier League for Esports Tournament with exciting cash prizes. Here is everything you need to know about it.
So far, 2020 has proved to be the worst year for sports and sporting events in recent history. With the world in lockdown due to the global pandemic, we saw many sports events being canceled/postponed, including many cricket series, the IPL, and T20 cricket WorldCup.
But there is good news for the millions of heartbroken cricketing fans quarantined at home. World Cricket Championship 2, the most popular cricket game on mobile, will now hold Esports Tournaments. Players will get a chance to compete with others and earn cash prizes.
About The Game
World Cricket Championship 2 is the second game in the World Cricket Championship Franchisee. Developed by Nextwave Multimedia, the game has over 50 million downloads on play store.
Players take each other on (1-on-1) in batting and bowling. World Cricket Championship 2 is the first full-featured real-time multiplayer cricket game on mobile and to introduce the E-sports ready in-game feature.
On February 6, 2020, WCC reached a new milestone, becoming the first-ever mobile game to feature a 2vs2 real-time cricket multiplayer mode.
The game also boasts a Spectator as well as a Caster's Mode.
You may also like: Top 10 Best Upcoming Mobile Games Every Gamer Should Play in 2020
About Nextwave
Nextwave Multimedia is known for its quality casual and multiplayer games in the sports genre and is the leading mobile sports game developer in India. As a subsidiary of Nazara Technologies, Nextwave has developed more than 200+ casual games for some of the best brands, including several Fortune 500 companies.
The Nextwave Multimedia developed game WCC, had recently crossed 110 million+ downloads globally. It made World Cricket Championship the largest franchise in the cricket gaming category.
Official Statement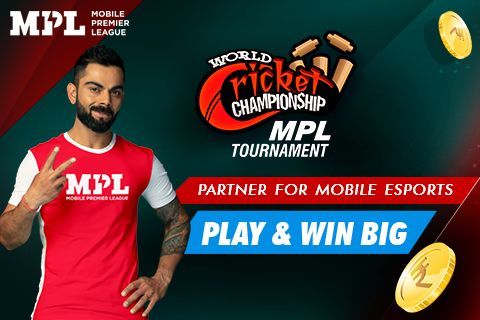 Now in a bid attract more players, Nextwave Multimedia has teamed up with one of India's leading mobile gaming platform Mobile Premier League (MPL). This partnership will help World Cricket Championship 2 to host online tournaments.
Here is what MPL CEO and Co-Founder, Sai Srinivas Kiran had to say
Cricket in the digital world goes much beyond just Fantasy. By getting one of the world's biggest cricket games- WCC- we have given our users yet another skill-based game to monetize their cricket and gaming skills. As a platform, we are constantly adding games that our users want to experience.
Mr. PR Rajendran, Founder and CEO, Nextwave Multimedia, further confirmed the tie-up.
The commitment towards delivering the best and establishing a personal connection with our users to innovate and improvise the gameplay has helped us achieve this success in mobile cricket gaming. We are excited to bring WCC to the MPL platform. We hope to see even more excitement from WCC fans as they can now monetise their skills in the game,
Verdict
Overall, Cricket game lovers can surely hope for an exciting ride this year. We will have to what this new MPL and Nextwave partnership brings to the table.
Download World Cricket Championship 2 from
Get the latest updates on mobile games at your fingertips. Turn on notification for shadowknightgaming.com and follow us on social media for more!