Here is a list of the best INVICTUS: Lost Soul Redeem Codes in 2023. The list is updated regularly. So, turn on notification for shadowknightgaming.com to get notified automatically every time we add new codes.
INVICTUS: Lost Soul is a real-time card-based fighting game featuring a skill-based combat system. It is a free-to-play game with in-app purchases, available on Android and iOS. The game uniquely combines the mechanics of fighting RPG and card games, creating an unprecedented game dynamic and stunning graphics.
INVICTUS: Lost Soul has many game modes, which include –
A full-fledged Story mode where players can enjoy the original story and cutscenes of INVICTUS.
PvP or Player versus Player mode where you Compete with real players from around the world.
Tournaments to fight against the others with your clan members and earn top prizes, and
Boss Fights where players will Battle the fiercest boss-level enemies together with your clan.
Apart from that, the developers have promised more game modes in the future.
Like most other free-to-play games, Invictus lost soul, also offers a ton of free rewards for players such as daily login bonuses, rewards for achievements, story rewards, and even some special event bonuses.
However, most of the time, if you want something good, you need to purchase the items with real money. But don't be sad, there are few ways to get Legendary items for free without spending a penny. Yes! It is possible by using free Redeem codes!
Now, before you get all pumped up, here are a few things you need to keep in mind.
The issue with using these is that free redeem codes are time-restricted and more often than not limited in quantity.
Bushiroad International Pte Ltd (the publishers of INVICTUS: Lost Soul) does not clarify how many times you can redeem an individual code, or if specific codes have higher redemption limits.
But don't worry, we at Shadow Knight Gaming have come up with a proper guide! This guide gives you the latest INVICTUS: Lost Soul redeem codes and a list of the rewards and how to redeem them, previous codes, and how to find new redeem codes.
INVICTUS: Lost Soul Redeem Codes November 2023
M6AMqVU0a
daily pass 6Pj8dzBaY
legendary card – KDfqzPBQF
premium equipment – btTmsdMUb
booster pack – oxLtOu9EU
exclusive banner – 9bFe4f1RK
All codes are Expired.
As of now, there are no active redeem codes available. However, there are some events where you can get free Top Rank Skin, Armor, Legendary item as Reward.
Furthermore, we will update the list whenever we will get new INVICTUS: Lost Soul Redeem codes. So, do visit this page every once in a while. Alternatively, you can also, hit the bell at the bottom right corner of your screen and allow notification from Shadow Knight Gaming, and get notified automatically every time we update the article!
Other ways to earn free rewards in INVICTUS: Lost Soul
Season Pass
in Every Season players can earn rewards from the Season Pass.
Log in to the game now and unlock all levels from Silver/Gold Tiers to get various prizes, including exclusive Armor & Weapon skins! Event PeriodMarch 26 ~ April 11, 23:59 UTC*
Please note that the item icon for the female Searing Sapphire Helmet (Lv.1 Reward) is currently not displayed correctly, and this will be fixed in the upcoming update. However, the issue will be fixed in the upcoming updates.
Tier prizes
Gold Tier Lv.5: Wallpaper "The Ruins of That Day" is now changed to Wallpaper "Bothersome Cold".
Silver Tier Lv.19: Gold 15 is now changed to Gold500
Silver Tier Lv.20: Gem1 is now changed to Gem15
Nodachi Weapon Skin from Season Pass at Gold Tier Lv.17
Receive Rewards from Boss Fights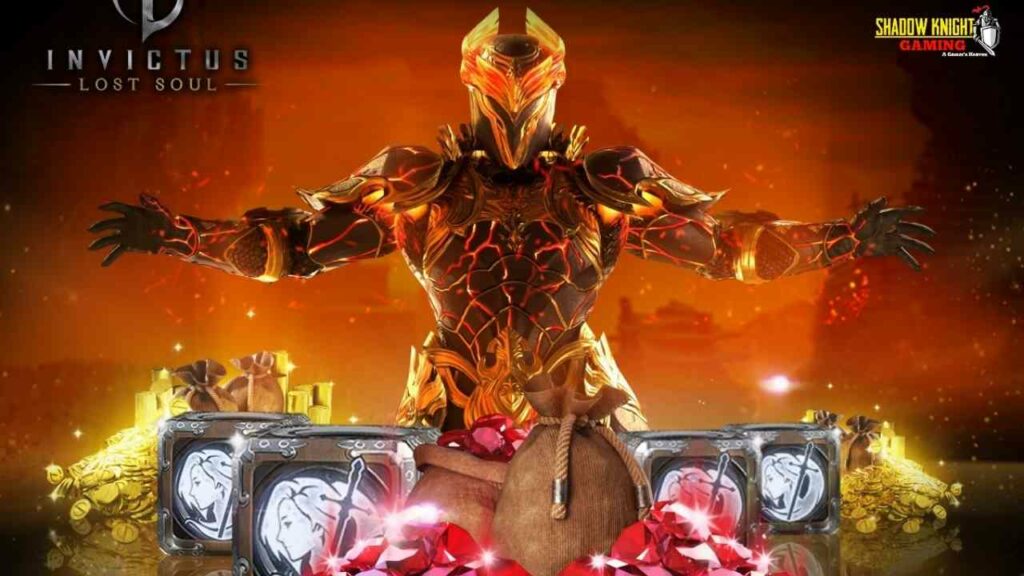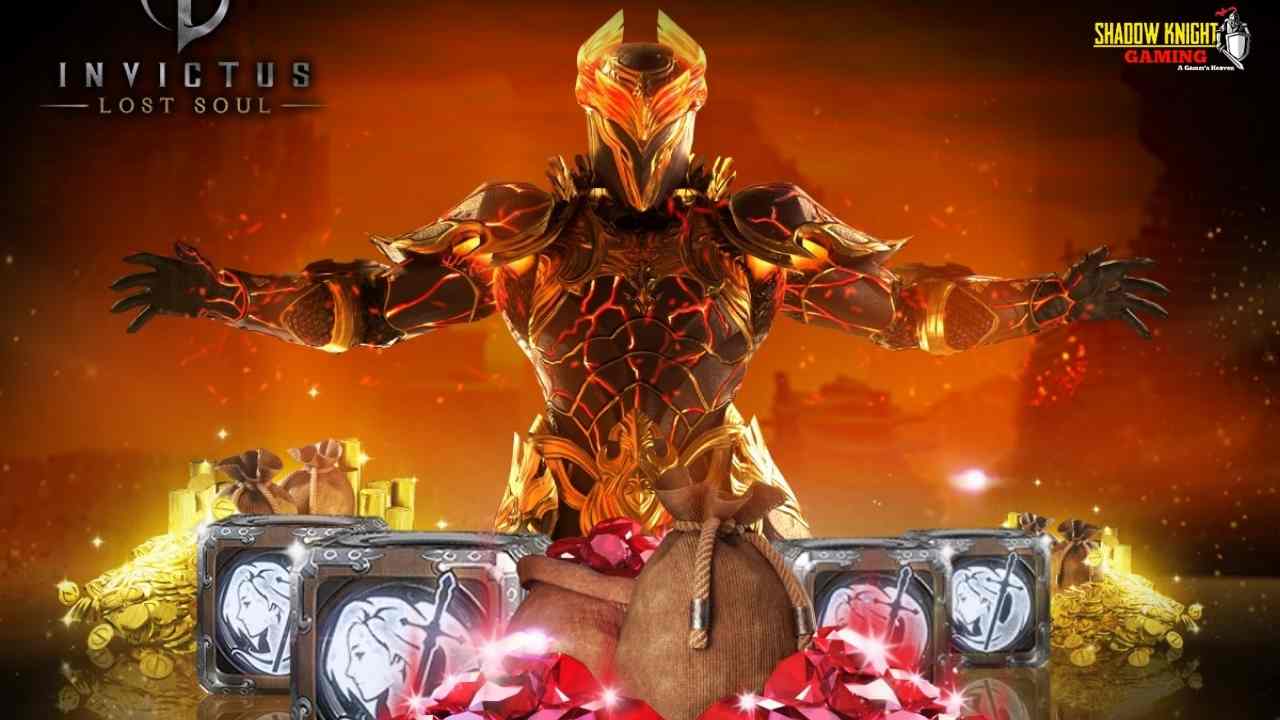 What's Boss Fight?
In a Boss Fight, Players face tough bosses who are not easily defeated. Strengthen yourself and encourage your clanmates to participate in the legendary fight! The more damage you deal in Boss battles, the higher your Clan Score becomes! Aim for the higher Rank to earn exclusive prizes!
How to join Boss Fight?
In the game menu tap on the Boss Fight button on the main page. You can also join boss a Fight from BATTLE > BOSS FIGHT.
INVICTUS: Lost Soul rewards players who take part in these boss fights events. As of 1st April 2021 A new boss Hivemind, the Sovereign Monarch of the Infected, is live! Do you have what it takes to challenge him?
Event Period: Apr 1, 00:00 ~ Apr 7, 23:59 UTC
Top Rank Skin Reward: Golden Eclipse
Special Events
Global Release Celebration
Lost Soul is celebrating its GLOBAL RELEASE! According to a post on the official social media account, the Real-Time PvP Fighting Game is, now collaborating with the Japanese multimedia franchise Cardfight!! Vanguard.
As a bonus, players can download the game right now for exclusive Blaster Blade armor skins, among other things for free!
Event Period:
March 1st, 00:00​​ UTC ~ March 21st, 23:59 UTC
---