MillionPugs is a startup promising to give an additional way to earn free game rewards for shopping online.
The idea is bright, but is it a legit service?
Once you read this article, you will know:
What is MillionPugs?
MillionPugs is a cashback platform for gamers. It was founded by gaming-industry enthusiasts who wanted to facilitate other players getting fancy in-game content to make their gaming experience more exciting.
The idea behind the service is that you shop online, collect reward points, redeem points for the content of your choice, and activate it in the game.
Currently, MillionPugs collaborates with almost 2000 various brands that offer special deals for MillionPugs users. Every time you shop online at their stores, you can activate these deals and get reward points.
Is MillionPugs a legit service?
MillionPugs is a fully legit and legal service that has been recently launched.
It is still in the expansion phase, steadily expanding its list of games, game rewards, and partnered brands.
Moreover, you can make your contribution to building the platform as MillionPugs strongly encourages users to provide their feedback on their Discord or Twitter. Consequently, you can suggest what games you would like to see on the list or what content is missing.
How to use MillionPugs?
As already mentioned, you use MillionPugs when you shop online.
Once you create a MillionPugs account, you can use the MillionPugs site to browse deals prepared by partnered brands, in-game rewards you can get, or the games that will soon join the MillionPugs list.
From there, you can get links to activate deals when you shop online. Nevertheless, MillionPugs wanted to make things easier for gamers and created the MillionPugs browser extension.
The MillionPugs browser extension makes things easier
Installing the browser extension is not obligatory, but it is:
free-of-charge,
quick to install,
easy to use.
Apart from these qualities, it also assists you in using the MillionPugs service.
Once installed, the plugin will automatically display notifications every time you visit any of the affiliated brands. From there, you just need to activate a deal, finish a transaction, and, afterward, you will see the promised reward points on your MillionPugs account.
Consequently, the browser extension allows you to fully exploit the service without missing out on any deals. What's more, it saves up the time you would have to devote to browsing offers and keeping up with the latest news as new partners appear regularly.
How to collect MillionPugs reward points?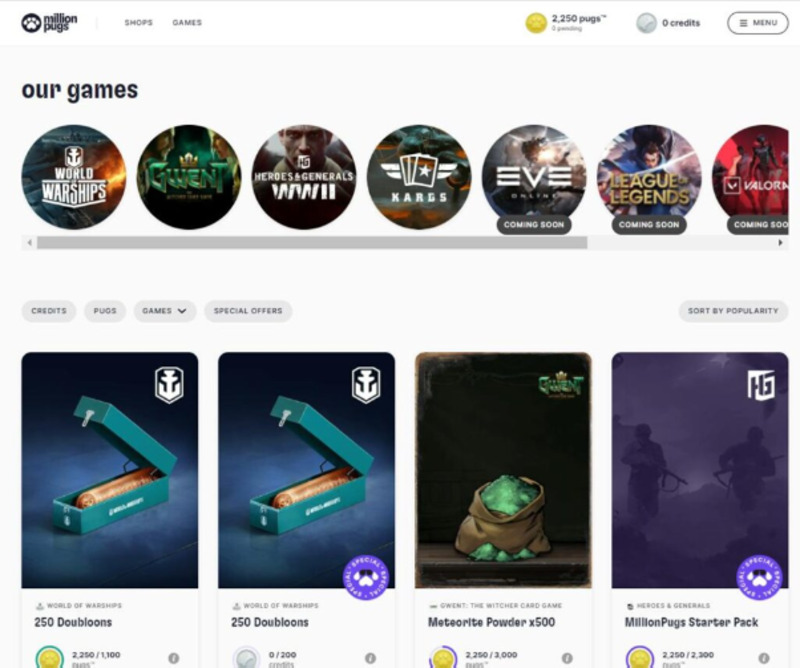 The service offers two types of currencies for shopping online – reward points, called pugs™, and credits.
Both of them are earned for finalizing transactions and can be used to purchase in-game rewards for your favorite games.
The main difference between them is that the number of pugs™ granted depends on the value of a transaction, while the number of credits is fixed and equals normally 100 for every transaction.
The pugs™ appeared first, but the creators of MillionPugs wanted to find a way to speed up the process of collecting points by users. Therefore, they have also added credits, which has made getting game content even easier and quicker.
Additional boosts of reward points
It is also worth mentioning that there are a few ways for newcomers to boost their number of pugs™. MillionPugs grant additional boosts of reward points for:
creating an account,
installing the MillionPugs browser extension,
visiting a partnered brand for the first time,
activating a deal for the first time.
Wide selection of partnered stores
Apart from the boosts, collecting reward points is also a straightforward and quick process.
Since MillionPugs collaborates with almost 2000 brands from multiple industries, you should have plenty of opportunities to collect points.
You can earn them when you order your favorite takeaways, buy food for your pets, or order stuff at Aliexpress.
The great benefit of using MillionPugs is the fact that you don't have to do any extra effort to start collecting points apart from creating an account and installing the plugin. You probably already shop at multiple MillionPugs partners, so the collection of points should be pain-free and effortless.
What game content can you get using MillionPugs?
As already stated, the MillionPugs platform is still growing, adding new games and new game rewards to their offer.
Nevertheless, they already cooperate with widely popular games, such as:
World of Tanks,
Gwent: The Witcher Card Game,
World of Warships,
KARDS,
Heroes and Generals.
Shortly you will see on this list EVE Online, Legends of Runeterra, or League of Legends.
MillionPugs does its best to provide exciting and useful content for gamers. You can get various types of items using the platform.
Consequently, MillionPugs is an effortless way to:
get gold or Premium Tanks in World of Tanks,
earn Skins and Doubloons in World of Warships,
get hold of Premium Kegs, or Meteorite Powder for Gwent: The Witcher Card Game,
earn various types of packs for KARDS,
and many more.
Should you use MillionPugs?
MillionPugs is an innovative service created by and for gaming enthusiasts.
Let's sum up its key advantages.
Effortless usage
All you need to fully exploit the service is to install the MillionPugs plugin, collect points, and get game rewards.
It makes using MillionPugs a fully effortless way to equip yourself with valuable game content.
A quick way to earn game rewards
Getting valuable resources usually entails completing missions, participating in tournaments, counting on your luck, or spending your real-money savings.
With MillionPugs, you can quickly get the game rewards you need without any payments, or without struggling in the game world to win the content you need.
Consequently, it is a great alternative to earning game rewards in an easy, free and quick way.
No strings attached
It is also worth mentioning that using MillionPugs doesn't require any contractual obligation.
You can create and then delete your account at any time you need. You don't have to sign any contract and there is no small print.
All in all, MillionPugs is a beneficial fully legit service for gamers allowing them to get game content for shopping online at stores they already shop at.
Consequently, it is a great way to get desired content without making the extra effort. All you need to do is create an account, start collecting points, and make your game more exciting.
Disclaimer: This is a promotional piece. No editor/writer of shadowknightgaming.com was involved in creating this content and thereby takes no responsibility for this article.