TL;DR

Re:Zero stands out in the Isekai genre with its exceptional storytelling and innovative plot.
Season 3 of the anime is in the works, with hints of a 2024 release, potentially in the middle of the year.
The upcoming season will dive into the fifth arc, "The Stars That Engrave History," featuring political tensions, a clash with the Witch Cult, and Subaru rallying all his allies to combat a common enemy.
Despite some challenges studio White Fox will likely handle the animation of the series.
Re:Zero is undoubtedly one of the biggest names in Isekai anime right now. It is a show that showcases the true potential of the genre which is often hated for its mediocre storytelling and lack of innovation. With only 2 seasons Re:Zero has already cemented its legacy.
While the series had long pauses between season 1 and two parts of season 2, a recent teaser makes us believe that we might not be too far away from Re:Zero Season 3. Here is what we know so far –
Table of Contents
What is Re:Zero About?
Re:Zero revolves around a boy named Subaru Natsuki as he is magically taken into another world. While having high hopes for this new life and believing himself to serve a higher purpose, Subaru is soon devastated by the fact that he is painfully ordinary in this world too.
Things go from bad to worse as Subaru is murdered by a mysterious enemy. It is through his death that Subaru gets to know about his special ability, one that allows him to go back in time when he dies while retaining his memories.
Subaru names his newfound powers "Return by Death".However, little did Subaru know that this is a curse he would have to carry in a painful journey in this new life while trying to achieve his goals and save his friends.
Throughout the anime, we get to see how Subaru transforms from a bratty kid to a dependable person who actually puts his powers to good use even if it means dying a painful death.
When Will Re:Zero Season 3 Come Out?
While the official release date has not been set yet, fans can expect the series to start properly promoting right from 2024 while the release date could be closer to the middle of the year.
Of course, this is only provided that it would be a single season and not divided into two cours like season 2, which could also see the series being pushed back later into 2024.
Re:Zero season 3 was officially confirmed on March 2023 and fans were given a glimpse into what was in store for them while also showing us fan-favorite characters such as Emilia and Beatrice.
What Will Happen in Re:Zero Season 3?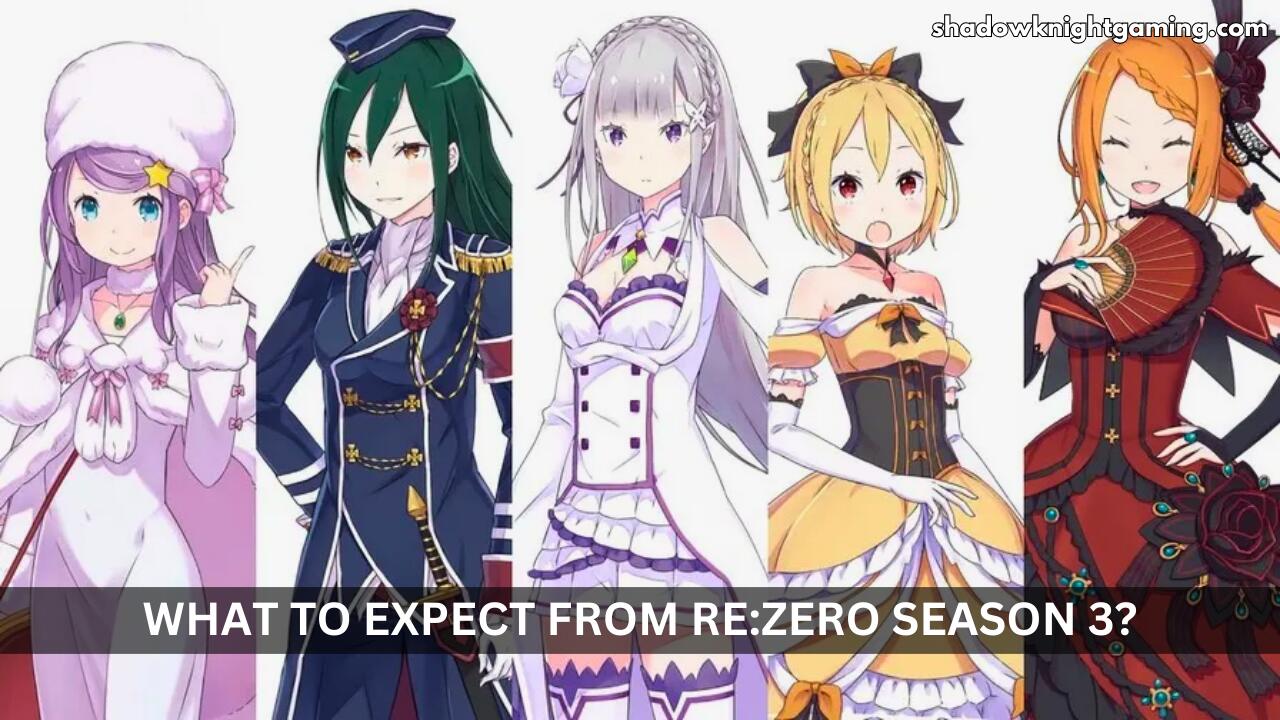 With the first 2 seasons adapting up to the first 4 arcs in the novel, season 3 of the Re:Zero anime will be covering the fifth arc, titled "The Stars That Engrave History". The arc follows all the royal selection candidates as they attend a gathering at the Watergate City of Priestella.
In addition to the political tensions being high, they will also fight against the Witch Cult, a powerful group that has taken control of the city and has devious plans of their own.
Subaru will be forced to spring into action while uniting all the different forces in the city to fight the common enemy.
In other words, it will be an arc filled with exciting development and gripping action.
Re:Zero Season 3 Trailer
At the AnimeJapan 2023 event, Kadokawa provided a sneak peek of the third season by sharing a two-minute teaser.
Although the Taser trailer did not reveal much we see Subaru and his companions face-to-face with a group of ominous enemies.
Below is the Re:Zero Season 3 official teaser video, let us know if you found something that we might have missed.
Which Studio Will Animate Re:Zero S3?
While there has been no official confirmation on the Animation studio of Re:Zero Season 3, we strongly believe that studio White Fox will continue animating the series.
While the studio has been facing many issues in the background such as staff members leaving and criticism for a decline in quality, their vibrant style is a major reason why Re:Zero was able to become this popular, and changing studios has a high chance of killing the entire series.
Apart from Re:Zero White Fox has worked on series like – Steins; Gate, The Devil is a Part-Timer!, Akame ga Kill, and Goblin Slayer, to name a few!
Re:Zero Cast
Subaru Natsuki –

Yuusuke Kobayashi (Roles: Senkuu from Dr. Stone, Arthur from Fire Force)
Emilia –

Rie Takahashi (Roles: Megumin from Konosuba, Ai Hoshino from Oshi no Ko)
Rem –

Inori Minase (Roles: Itsuki from The Quintessential Quintuplets, Jeanne from The Case Study of Vanitas)
Beatrice –

Satomi Arai (Roles: Kuroko from A Certain Magical Index, Ranko from SeitokaiYakuindomo)
Ram –

Rie Murakawa (Roles: Najimi from Komi Can't Communicate, Hotaru from Non NonBiyori)
Who Will Enjoy Re:Zero?
As mentioned at the start of the article, Re:Zero is an unmissable anime for anyone who has a bad perception of Isekai stories. It is filled with complex and layered writing as well as a cast of distinctive characters who stay in your memory for a long time.
The series is, however, recommended for older teens and above as it deals with a lot of violence, gore, and depressing topics. While the bright animation might mislead many, make no mistake that Re:Zero is a very mature series that can scar even adult viewers.
---
Here is everything you need to know about the upcoming Bleach: Thousand-Year Blood War Part…