Here is a list of the best PUBG Mobile Redeem Codes of April 2021. The list is updated regularly. So, turn on notification for shadowknightgaming.com to get notified automatically every time we add new codes.
In PUBG Mobile, there are many ways to get outfits and skins for your character, such as events, royal passes, random boxes, etc. Sadly, most of the time, if you want something good, you need to purchase the items with real money.
However, there are few ways to get unique/ premium gun skins, outfits, and more without spending a penny. Yes! It is possible by using free PUBG Mobile Redeem codes!
But before you get all pumped up, here are a few things you need to keep in mind.
The main issue using these codes is that free redeem codes are not only time-restricted but also are limited in quantity.
Tencent does not clarify how many times you can redeem an individual code, or if specific codes have higher redemption limits.
Secondly, many times a particular redeem code is only valid for the first 100 users or only 30mins. Thus only the quickest players can get free gun skins and stuff using PUBG Mobile redeem codes.
But don't worry, we at Shadow Knight Gaming have come up with a proper guide! This guide not only gives you the latest PUBG Mobile redeem codes but also a list of the rewards, and how to redeem them, previous codes, how to find new redeem codes.
Furthermore, whenever we get new PUBG Mobile Redeem codes, we will update the list. So, if you really want some rewards to make sure to allow notification from Shadow Knight Gaming, and you will get notified every time we update the article.
List of PUBG Mobile Redeem Codes 2021
PUBG Redeem Codes Today 12 April 2021
BIFOZBZE6Q
BAPPZBZXF5
BCAHZBIZ88B
BBKTZEZET3
BIFPZBZKBE
NEHZBZ9VX
EKJONARKJO
S78FTU2XJ
SDYMKTKTH8
PUBG Mobile 3rd Anniversary Redeem Codes
PUBG Mobile celebrated its third anniversary on 21st March, and the developers hosted a party highlighting the renowned DJs – Alesso, Lost Frequencies, and R3HAB. The in-game events are already started to memorialize this incredible feat.
The developers have released many redeem codes for various items, like emotes, outfits, masks, pan skins, BPs, and more to mark the occasion.
Here is a list of the redeem codes along with the rewards:
CHICKENDINNER – [Reward: 100 BP and Winning Chicken – Pan ] – (Available for three days)
DROPTHEB3ATS – [Reward: Streets of Volnova emote (1d) and Neon Punk Sweats Blue ] – (Available for two days)
HAPPY3RDBIRTHDAY – [Reward: Supply Crate coupon, Pochinki Goes Boom emote, and Silver Masquerade Mask. ] – (Available for one day)
Players are urged to use these codes immediately before their redemption time limit is reached.

Pubg Mobile Redeem Code 2021
BBKVZBZ6FW (Rewards: PUBG Cannon Popularity)
EKJONARKJO (Rewards: M416 Gun Skins)
MIDASBUY (Rewards: Free Namecard and Room Card)
BBKTZEZET3 (Rewards: Legendary Outfit)
GOODMORNING (Rewards: 2021 Fireworks Gift)
BBKRZBZBF9 (Rewards: UMP-45 Gun Skin)
BAPPZBZXF5 (Rewards: UMP-45 Gun Skin)
UCBYSD600 (Rewards: 600 UC Redeem Code)
BBVNZBZ4M9 (Rewards: 2 Red Tea Popularity)
Latest PUBG Mobile Redeem Code April 2021
PUBG Mobile has published new redeem codes that can gift you legendary outfit and Kar98 skin free of cost.
KARZBZYTR – [Reward: Free Kar98 Skin]
BCAHZBHZ486 – [ Reward: Legendary Outfit]
BFHMZBZFHB (code to Get an M416 skin )
KARZBZYTR (code to Get a free skin for the KAR98 sniper gun)
5FG10D33 (code to Get a new legendary outfit)
BCAHZMZ64EC (code to Get a new legendary outfit)
SD16Z66XHH (code to Get a UMP9 gun skin)
New PUBG Mobile Free Redeem Codes of November 2021
KARZBZYTR – [Reward: Free Limited-Time Scar-L skin] – (Available for three days)
BBKTZEZET3– [Reward: M416 Skin} – (For first 500 users only)
PGHZDBTFZ95U– [Reward: Golden pan redeem code} – (applicable for few regions)
SD14G84FCC – [Reward: free fireworks } – (Popular Item)
BCDBZIZTA7 – [Reward: free campanion} – (For first 5000 users only)
R89FPLM9S – [Reward: New legendary outfit} – (For First 100 user)
PUBG Mobile Popular Item Redeem Code 2021
QEJZLCIZ5M4 – [Reward: Free Limited-Time AKM Gold Skin] – (Available for First 2,000 Players)
TIFZQZANGC– [Free Legendary Outfit]
TIFZBJZWMN – [Reward: Free Legendary Outfit]
Season 15 Redeem Codes for PUBG Mobile
These Redeem Codes will be applicable only for the first 100 users
BHGHS15NGP
BCCQZDZSCH
BLPUS15XJX
MNS15COMTH
TIFZBHZK4A
TIFZBIZACZG
Click Here to Claim Free PUBG Mobile Free Rename Card
PUBG Popularity Redeem Code
A few months ago Tencent introduced Popularity feature in PUBG Mobile. It is nothing to do with your gameplay but the more popularity you have, the better your profile will look like and people will think you are a good player. So here are some list of Popularity Redeem Codes:
PGHZDBTFZK4A
TIFZQZANGC
TIFZBHZK4A
TIFZBJZWMN
OENZBZGTN
UKUZBZGWF
RAAZBZJGS
5FG10D33
TQIZBz76F
R89FPLM9S
UKUZBZGWFR
KARZBZYTR
A70DZMIL
UKUZBZGWF
PUBG Mobile Expired Redeem CODES:
OENZBZGTN
BOBTHE70BUL
28KUCFREEFOR
D70FYU5N0
PGHZDBTFZK4A
TXTRECORDPUBG
5FG10D33
TIFZBHZK4A
PGHZDBTFZM24U
TIFZQZANGC
TIFZBJZWMN
GPHZDBTFZM24U
PUBGREDEEMCODE
REDEEMCODE2021
FREEPASSPUBG2020
ALLCODEFORFREE
RNUZBZ9QQ
INVALIDCODE2020
VALIDCODE2020
FREEREDEMPTIONC28K
*All the codes given above were tested at the time of writing the article. The developers deactivate the codes after a certain period. Therefore, we cannot guarantee these codes will work.
---
How to get free PUBG Redeem Codes?
PUBG Mobile codes are promotional codes that Tencent releases, regularly. Tencent Games releases these redeem codes on the official social media handles of PUBG Mobile, Fan Pages, and is available for a limited time only. So, if you're looking to stay ahead of the game, be sure to keep an eye on the next PUBG Mobile live streams.
To maximize the viewership, the live streams are organized during the weekends. While the channels that air these redeem codes are active throughout the week, they mostly cover other contents related to the game.
Remember, if you want a code for an outfit or gun skin, you will need to be the early bird.
Below are mentions of channels that provide redeem codes:-
PUBG Mobile India official: The official YouTube channel provides the latest news and live streams for PUBG Mobile. It is active throughout the week. They usually give away promo codes during live broadcasts.
PUBGMobile: It is a Twitch account that streams competitive PUBG Mobile gameplay. The channel is active throughout the week, and between 12:00 – 18:00 and 23:00 – 03:00 BST. Promo codes are given out during certain live streams.
PUBG MOBILE: The YouTube channel hosts live streams of competitive play, as well as news and other content related to PUBG Mobile. The channel is active a couple of times a week, mainly for the western countries.
al3od: a Twitch account which handout codes occasionally. Usually online on Tuesdays and Saturdays.
leodeck: Spanish Twitch account that streams every day of the week, generally between 02:00 and 08:00 BST.
todosgamerstv: This Twitch account is active all week, most of the time on Friday, Saturday, and Wednesday
pubgmobile_tw: Usually online every Tuesday and Wednesday
UNQGAMER: Another Twitch account that streams twice a day, every day of the week
PUBG MOBILE Discord: The Discord server is the quickest way to get PUBG Mobile news and stream details. If you want to get the codes early, being a member of this community is going to help a lot.
As with any of the sources recommended above, you may want to subscribe or follow them.
PUBG MOBILE IN-GAME STREAMS: HOW DO YOU TUNE IN?
An excellent way to keep up with the next round of codes is the Esports section in the PUBG Mobile app. Here you will find the live stream schedule as soon as they are announced.
For those who don't know how to watch eSports from the PUBG Mobile app, Here is a detailed instruction:
Launch the PUBG Mobile application on your smartphone or tablet.
Wait for the game to load, and close any pop-ups.
Once on the main menu, click the Tournament Center icon (the icon that looks like a Gold Trophy)
On the left side of the Tournament Center menu, you'll see an orange "Watch Esports" button.
Tap on it and wait for the page to load.
At the bottom right corner, you will see a counter below a chest icon.
Tapping on the chest will reveal the reward tiers you get for viewing the live stream.
You can collect over 30 points for viewing for 30 minutes, which you can spend in either the Events tab or Points Shop.
You can spend these points in several ways. One way is to wager these points if you think a Crew will win a round in the next tournament being streamed. Another way to spend points is in the Points Shop for items such as parachute trails, Classic Crate Coupons, and more. If you're feeling extra lucky, you can use these points on the PMWL Lucky Draw, where you can get the Psychopath Set and Psychopath Mask.
---
How to use PUBG Mobile Redeem Codes April 2021
To redeem PUBG Mobile promo codes, you need to visit the official website. From there, you will need to fill out your unique character ID, the code itself, and verification code or "captcha" to prove you're not a robot.
Copy Your Character ID:
You can find your character ID in PUBG Mobile by clicking on your avatar/character at the top right corner of the main menu. Here it will show you your ten-digit ID, as shown in the image below.
Enter Your Character ID and Redeem Code:
Redeem Code: UKUZBZGWF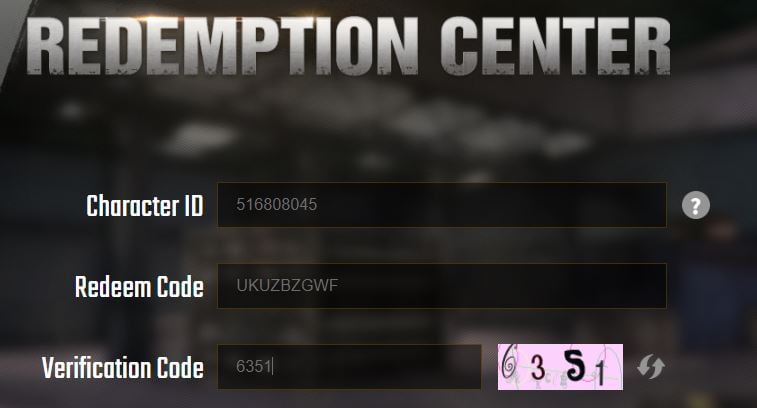 Click on Redeem:
Now Click on the Redeem button.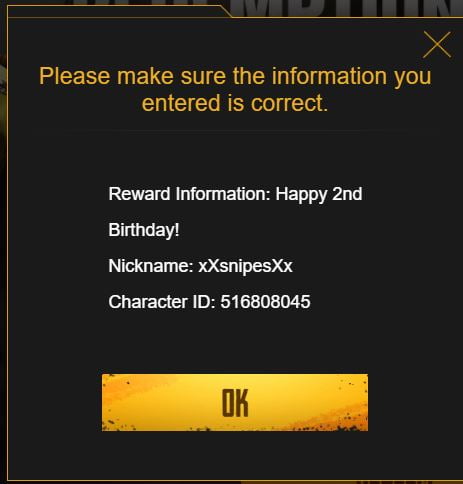 Open In-Game Mails In PUBG Mobile:
Now Open PUBG Mobile on your phone and then open in-game mails
Claim your Prize:
Now claim your prize and enjoy
---
We hope you enjoyed our post. If you run into any problems/issues, feel free to let us know in the comments section below. When we get new Redeem codes will be updated periodically. So, make sure to allow notification from Shadow Knight Gaming, and you get notified every time we update this article.
Don't forget to follow Shadow Knight Gaming on Facebook and other social media platforms for more PUBG Mobile and other mobile games coverage.
See you in Battle Grounds, Gentlemen!