Are you in search of the elusive OSRS Lumberjack Outfit? Look no further! I've recently discovered a fast and efficient way to obtain this gem without completing any diary challenges. So, let's cut through the misinformation and get you geared up like a true lumberjack!
What is Lumberjack Outfit in OSRS?
In Old School RuneScape (OSRS), there's a special outfit called the Lumberjack Outfit that helps woodcutters become even better at their craft. To wear any piece of the outfit, you need a Woodcutting level of 44 or higher. Each piece gives you a bonus to Woodcutting experience, ranging from 0.2% to 0.8%. But when you wear the entire set, you get an awesome 2.5% boost!
Here is the XP boost breakdown –
Lumberjack hat 0.4%
Lumberjack top 0.8%
Lumberjack legs 0.6%
Lumberjack boots 0.2%
Sub-total 2% Set bonus 0.5% Full set 2.5%
How to Get the OSRS Lumberjack Outfit:
Forestry Shop:
You can buy the outfit pieces from the Forestry Shop using a mix of anima-infused bark and specific logs. It's a rewarding way to collect the outfit for dedicated woodcutters.
| Outfit Piece | Anima-Infused Bark | Maple Logs | Yew Logs | Magic Logs | Redwood Logs |
| --- | --- | --- | --- | --- | --- |
| Lumberjack hat | 1,200 | 0 | 200 | 100 | 0 |
| Lumberjack top | 1,500 | 0 | 60 | 120 | 120 |
| Lumberjack legs | 1,300 | 0 | 160 | 140 | 0 |
| Lumberjack boots | 1,000 | 100 | 200 | 0 | 0 |
The complete Lumberjack outfit set can be acquired by spending 5,000 Anima-infused bark, 100 maple logs, 620 yew logs, 360 magic logs, and 120 redwood logs.
Temple Trekking: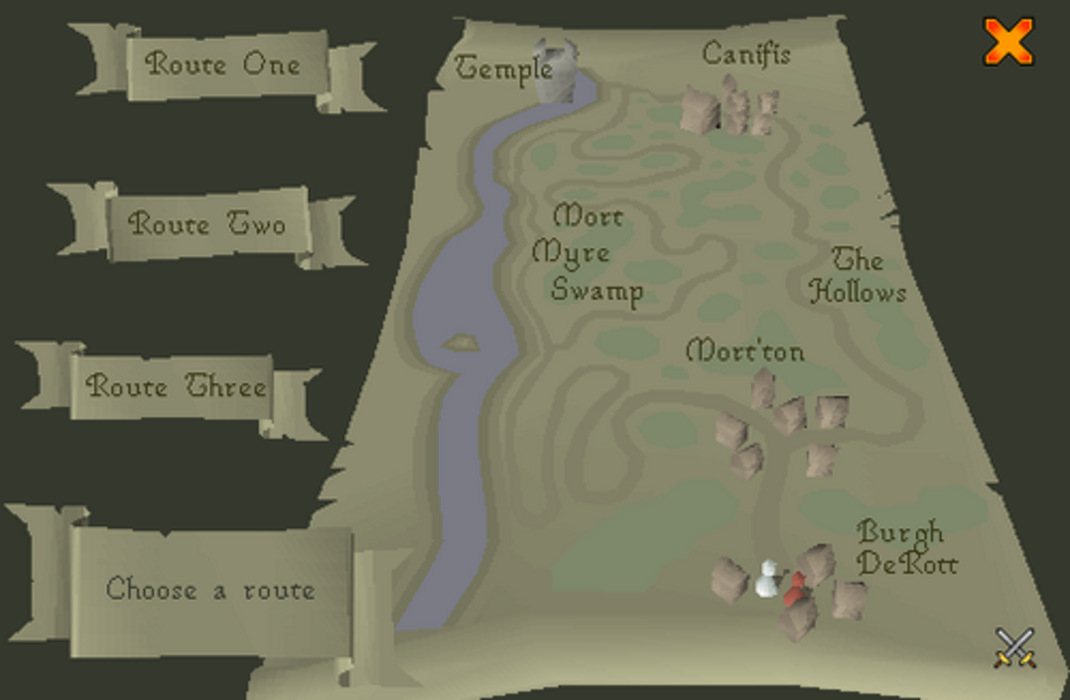 For those looking for adventure, the outfit pieces can also be found as drops from undead lumberjacks during the Temple Trekking minigame. It's challenging, but with determination, you can get the outfit pieces as you cross bridges and defeat the undead foes.
Here are the Requirements and a complete guide who are looking for adventure.
Requirements:
Quests
To continue our journey, we must complete two quests: "In Aid of Myreque" and "Darkness of Hallowvale."
"In Aid of Myreque" Quest: This quest will allow us to access Temple Trekking. Temple Trekking is a special activity where we help people safely travel through dangerous areas. It's an essential skill we'll need on our journey.
"Darkness of Hallowvale" Quest: This quest will grant us access to a place called Burgh De Rott. Burgh De Rott is a town that will be essential for our journey, offering valuable resources and opportunities.
By finishing these quests, we'll gain valuable abilities and access to important locations, which will make our adventure much smoother and more successful. Let's go complete these quests and prepare ourselves for the challenges ahead!
Recommended Combat Level:
You need a combat level of 80 or higher as there will be undead. Also, wear good gear, bring healing food and combat potions, use Protect from Melee prayer if possible, attack strategically while avoiding clustering, and be ready to retreat if needed.
What to Bring:
Druid Pouch
Silver Sickle
Food (if you're a lower level)
Stamina Potions
Axe
Efaritay's Aid
Step-by-Step Guide to Get Lumberjack Outfit Osrs
Step 1: Complete both Requirements.
Step 2: Gear Up- Once you're ready to explore Burg De Rott City, grab any weapon, even a Dragon Scimitar works. Those level-30 undead Lumberjacks are wimps! For agility and comfort, bring weight-reducing gear like Boots of Lightness and a Spottier Cape.
Step 3: Beware the Minigame– Heads up, this minigame is no joke. If you die here, you lose all your stuff (and your hardcore Ironman status if you have one). Lower-level players, stash some Saradomin Brews for emergencies, though you'll probably never use them.
Step 4: Teleport Tricks: Get yourself teleports to Burg De Rott. Completing the hard Morytania Diary gives you unlimited teleports. If not, snag 20 to 30 Mort'ton Teleport Scrolls from the Grand Exchange or craft Barrows Teleport scrolls (requires level 83 Magic) to get there.
Step 5: Into the Minigame: In Burg De Rott, thee will be scout Fiona Fray or Dulcin Fang (either is fine). Chat with them to trigger a cutscene, placing you in a square room. Always choose Route Number One.
Step 6: Random Events: Uh-oh, random events are incoming! If it's a combat one, don't stress; click the green rocks to avoid fighting. The bog or river room is a dead-end, so teleport back and restart. The bridge event is what you want for outfit pieces, but no dead trees, please.
Step 7: Collect Outfit Pieces Defeat undead Lumberjacks in the bridge room until you get an outfit piece. Teleport back, rinse, and repeat until you complete Lumberjack Outfit.
Step 8: Patience Pays Off If you fight undead Lumberjacks but get no pieces, hold on for 30 seconds. More will appear, giving you another shot at the outfit.
That's it, adventurers! Hope this guide made your Lumberjack Outfit quest a breeze. Someone has reported that the method of getting another piece from the same trek might no longer work.
Tips from Fellow Adventurers:
Running to the exit with the "Evade" option (instead of "Continue") in easy treks skips combat events, saving time.
Be cautious when using the "Escape" option as it might teleport you randomly on the path instead of back to the mini-game spawn point.
Always choose the easy route and pick either the Mage or Dalcian. The event we're after is the "Fix a Bridge" event without the trees. Difficulty doesn't affect the chances of this event occurring, so go for the easy path to speed things up.
Contrary to some guides, you're not limited to obtaining one piece of equipment from the first 5 lumberjack zombies you fight. If you don't get a piece, wait for the next wave of zombies. You can acquire one piece per puzzle.
After getting a piece, hope to be in a different world. This allows you to get another piece from the same trek.
With this guide, you can speed through your journey and get your hands on the coveted Lumberjack Outfit in no time. Forget about the 5 to 20-hour grind; follow these steps, and you'll be chopping like a true lumberjack in just 30 minutes!
If it helped, give this post a comment and share. And if you want more tutorials, drop your requests in the comments below. Happy RuneScaping, and catch you in the next post!
Here is a brief introduction to the RuneScape Ironman mode and a few things that you should expect from the developers in the near future. From the very beginning, RuneScape has seen a variety of different account builds. In 2014,…
In OSRS, The Tourist Trap is an intermediate quest set in the treacherous Kharidian Desert, just south of Al Kharid. A new desert pass has opened up, leading to unexplored dangers in the vast and trackless dunes. Adventurers are called…