Here is everything you need to know about the upcoming Blue Exorcist Season 3.
Key Takeaways:
The release date for "Blue Exorcist" Season 3 is anticipated to be released in January 2024.
The series revolves around Rin Okumura, one of Satan's sons, as he joins True Cross Academy to become an exorcist and thwart his father's malevolent schemes.
The original manga by Kazue Kato is still ongoing, boasting 29 volumes as of July 2023.
Season 3 will cover the gripping 'Shimane Illuminati' arc and will be delving into the haunting past of Izumo Kamiki.
Unlike the previous seasons, Studio VOLN will handle the production for Season 3, marking a change from the prior A-1 Pictures studio.
Aoi no Exorcist, or Blue Exorcist, is a fantasy shounen anime revolving around twin brothers, Rin Okumura and Yukio Okumura, the sons of Satan. The series is known for its action-packed sequences and great character development.
Having garnered a huge fan base due to its compelling supernatural elements and impressive storytelling, the show has successfully run two seasons and now fans are excitedly awaiting a third season.
Table of Contents
Blue Exorcist Season 3 Release Date
At the Aniplex Online Fest 2023, the creators confirmed a season 3 was in the works, with a  potential release in January 2024.
It was confirmed that the third season of Blue Exorcist will follow the manga, as the series has so far remained faithful to its source material and the next season will be covering the 'Shimane Illuminati' arc, covering volumes 10-15.
The upcoming season is also expected to adopt the Academy Seven Wonders arc. 
What is the Blue Exorcist series all about?
Based on the manga by Kazue Kato with the same title, Blue Exorcist features a world where humans and demons coexist.
The world of humans, Assiah, is separated by the world of demons, Gehenna. Satan, the main antagonist of the series, had children with a human woman so he could create a vessel suitable for him to use in the human world.
After the death of their surrogate father at the hands of Satan, Rin and his brother Yukio, enroll in the True Cross Academy to train and become Exorcists to defeat their father and his evil plans. 
What happened in the last season?
The first season of The Blue Exorcist begins with Rin discovering that he is the son of Satan, who murders his foster father. In a quest to kill his real father, he joins the True Cross Academy, at the behest of Mephisto, where his brother, Yukio is already a graduate Exorcist and a teacher.
Rin comes across a lot of people and has many encounters with demons. The first season ends with Rin being discovered as a son of Satan.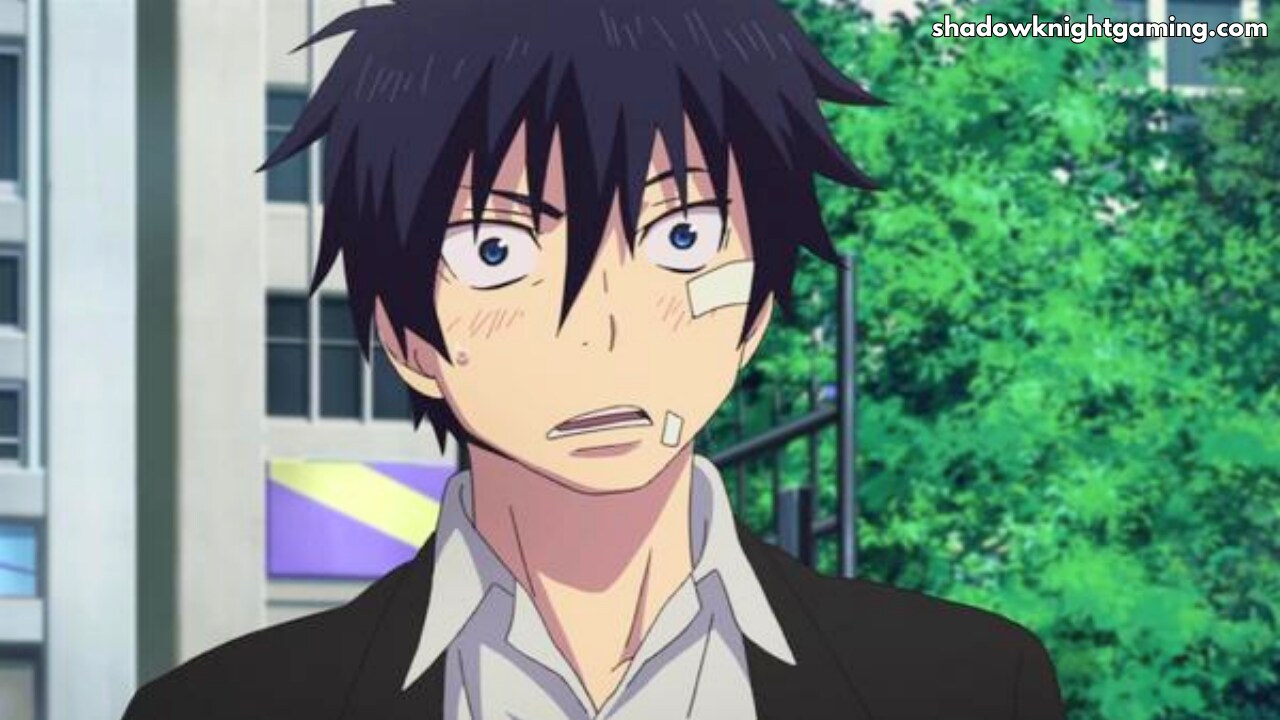 The second season of Blue Exorcist covered the Impure Kyoto King arc. Season 2 begins shortly after Rin is sentenced to probation after Grigori discovers he is Satan's offspring. His brother was as frigid as ever, but it was to protect Rin.
His classmates weren't inclined to forgive or overlook the fact that he was Satan's offspring. The Left and Right Eye of the Impure King served as this season's primary plot point.
The season ended with Rin and his friends defeating the Impure King. Rin also managed to control his demonic powers and reconcile with his brother Yukio. 
Blue Exorcist manga is still Ongoing
The manga was first published in April 2009, by Kazue Kato, in Jump Square magazine. Since then, 29 volumes have been published as of July 2023. A-1 adapted the manga into an anime and the first season ran from April 17, 2011 to October 2, 2011.
A movie was released in December 2012 followed by a second season airing from January to March 2017. The manga is currently still going on and is in the midst of a major epic battle. 
What will Blue Exorcist Season 3 be all about?
The Shimane Illuminati arc will follow the exploits of the mysterious Illuminati group, led by Lucifer, another son of Satan, who plans to revive the god of demons and merge the human and demon worlds.
This season will also cover the story behind one of the main characters, Izumo Kamiki's traumatic past.  
Blue Exorcist S3 Key Visual and Official Teaser:
The official trailer and key visual for season 3 were released at the Aniplex Online Fest 2023. The teaser trailer confirmed the next arc being covered was the Shimane Illuminati arc and fans can anticipate even more mind-blowing flights and supernatural elements.
So far, Rin's classmates have made peace with his status and they all are enjoying their school life. However, Izumo seems to be having trust issues and suspicious motives of her own. Fans will be getting a deeper look at her traumatic past as well.
There are snippets of a mysterious terror looming in the background and we can expect our heroes to soon get embroiled in a dangerous plot. You can watch the teaser above.
Blue Exorcist S3 Characters and Their Voices
The main characters of the series are:
Rin Okumura: The series' lead character. He is a demon-possessed youth who is impetuous and hot-headed. Nobuhiko Okamoto is the Japanese VA for Rin.
Yukio Okumura: Rin's younger twin brother and exorcist who serves as both his teacher and mentor. He is calmer and more orderly than Rin. Jun Fukuyama is the Japanese VA for Yukio.
Mephisto Pheles: The mysterious and eccentric headmaster of True Cross Academy, who appears to have his own agenda. Hiroshi Kamiya is the Japanese VA for Mephisto.
Shiemi Moriyama: Shy and kind-hearted, she makes friends with Rin and Yukio at the academy. She is studying to become an exorcist and has a talent for botany. Kana Hanazawa is the Japanese VA for Shiemi. 
Ryuji Suguro: Often known as Bon, is an exorcist who happens to be a classmate of Rin's. Although he might be a little aggressive, he is deeply devoted to his buddies. Kazuya Nakai is the Japanese VA for Ryuji. 
Izumo Kamiki: A classmate of Rin's, she is cold and distant with them initially but later develops a strong bond with the gang. Eri Kitamura is the Japanese VA for Izumo.
The direction of Season 3 will be handled by Daisuke Yoshida. 
Which studio will be producing the new season of Blue Exorcist?
Studio VOLN will be taking over for season 3. It is unclear as to why there is a change in the studios as the previous two seasons were handled by A-1 studios.
Who will enjoy Blue Exorcist?
Fans of the supernatural and fantasy genre would greatly enjoy The Blue Exorcist. The series features exciting fast-paced action scenes, great character development, and an engaging plot. Coupled with the elements of magic and horror, the show is a great fit for people who love adrenaline-filled anime. 
Blue Exorcist Anime ratings:
Blue exorcist is a fan-favorite anime with high ratings.
Season 1:
MyAnimeList Rating: 7.49/10
AniList: 7.2/10
AnimePlanet: 4/5
Crunchyroll Rating: 4.6/5
IMDb Rating: 7.4/10
Season 2:
MyAnimeList Rating: 7.35/10
AniList: 7.3/10
AnimePlanet: 3.9/5
IMDb Rating: 7.3/10
Frequently Asked Questions:
What's the status of the Blue Exorcist S3?
As of now, only a teaser trailer has been released and a potential release is set for January 2024. The new season is currently in the works. Fans can expect around 12 episodes with a few OVAs, similar to last season. 
In what order should you watch The Blue Exorcist?
Start with Season 1, followed by the movie, then the OVA, Runaway Kuro, then Season 2, followed by the OVA, "Snake and Poison", and then another OVA, Spy Game.
Why are the students mad at Rin in Season 2?
The revelation about Rin being the son of Satan does not settle well with students of an exorcist academy. There is a lot of doubt and distrust when it comes to his parentage and the fact that he hid it.
Why is Yukio so cold with Rin?
Yukio continues to act distant and cold with Rin to protect him and also as he is envious of his brother's powers. However, the two reconcile at the end of Season 2.
Are Rin's blue flames out of his control?
The Flames of Satan or the Blue Flames are sealed in the demon-slaying blade, Kurikara, along with his demon heart. However, Rin can access them at the risk of going feral. However, he later starts practicing to control them and gains little control at the end of Season 2.
The excitement is real with the return of Blue Exorcist and fans cannot wait for season 3 to be out.
---
Here is everything you need to know about the fourth Season of The Devil is…