The Evertale Stealth team build guide will help you create the perfect Stealth Team in Evertale
Table of Contents
Now before we start let me give you a fair warning – If you are a beginner, then you should keep your distance from this status effect, as it offers nothing in comparison to other status effects, offensive or defensive.
Stealthed units only ignore the next enemy attack that would damage more than one target. Any damage will remove stealth.
A powerful attack that targets more than one unit is really hard to come by, but if you got unlucky in your initial summons and got stuck with it, then it's not that bad, believe me, because you can at least get the characters that possess the stealth status effect, unlike sleep, where the scarcity of good sleep characters is like finding a drop of water in the desert.
If you want to find out the best characters in Evertale, check out our Evertale tier list.
Evertale Stealth Team Build Characters
There are some really good and powerful characters in Evertale that will fit our stealth team. Here are some of our character recommendations –
Elmina – Void Renegade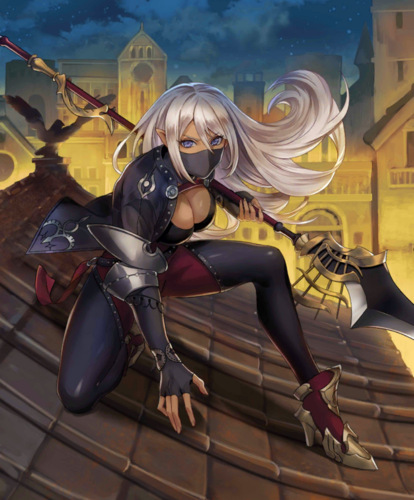 Active Skills
attack, stealth raid, shadow clone, and stealth ambush.
Passive Skill
Shadow Entry and Shadow Regeneration
You can say that she is a balanced character, I suppose because she is not a heavy damage dealer, but she is clearly not a defensive character.
She is on our recommendation list because of her passive skills, and both of them are crazy. Shadow regeneration heals all allies with the stealth status effect, healing 15% of their max HP when Elmina gets a turn.
And the other one grants stealth status to the rest of the team whenever the unit enters the battlefield with reinforcements. You can send Elmina next in line for reinforcements from the front lines with the help of the Shadow Clone ability, which exchanges the user for one Shadow Elmina.
And if she manages to pull that off, then it will satisfy the requirements for Stealth Ambush; she can unleash a deadly blow that will damage two enemies by 400%.
For our following recommendation, we have
Elmina – The Violet-Eyed Assassin
Active skills 
Sneak Attack, Healing Stealth, Stealth Impact, and the Survivor's Raid
Passive skills
Stealth Power: This unit's attack is increased by 50% while it has the stealth status effect. This effect does not stack with enrage skills.
Stealth Stun Skin: Enemy units that deal damage to this unit while it has stealth get stunned for 100 TU. If this unit does not have stealth while damaged, the enemy unit is instead stunned for 50 TU.
Quite a skill set if you ask me; none of her skills are restrained by any prerequisites except stealth status, and you are building a team-oriented toward stealth, so having that won't be a problem?
She can heal herself by using the Stealth ability, which restores 50% of the user's maximum HP and grants the Stealth status effect. When granted the stealth status effect, her attack is increased by 50% because of her stealth power, which unlocks the possibility for stealth impact. To top it all off, every unit that deals damage to her will be stunned for 100 TU. Because of that, her chances of survival are high, and she can meet the requirements of Survivor's Raid.
Third on our list of recommendations is
Mysha: Nine-tailed Calamity
The last time she came into summons, my whole alliance went nuts over her. Those who didn't have 30K at that time were freaking out like crazy that they might miss the chance to get her this time. That's how powerful she is, so don't miss her whenever you have the chance to get her.
No matter what team they were building, everyone wanted her on their team, but when you are considering Stealth for the future, she'll be a great addition to your platoon.
Active Skills 
Swift Stealth, Stealth Fury, Assassin's Drain, and Survivor's Fury
Passive Skills
Stealthy Vengeance and Holding Ground
I can't say that she has top-of-the-table passive skills, but they're not that bad either. She has our favorite, "Hold Ground," and the second one isn't that useless either; maybe it won't be that useful in every battle, but in some battles, that extra 1 spirit can change the tides of the battle to your advantage.
It's time to put your active skills to use. You might be compromising with the passive skills, but when it comes to active skills, she has everything that your main damage dealer should have.
That 300% damage to two enemies with Stealth Fury is her main highlight; you should be able to take down opponents quite easily, or at least inflict a considerable amount of damage to drop their HP bar. If you need to deal more damage than that, there is always the option of using Assassin's Drain, which will restore her health as well.
Both of these skills do require her to be in stealth status, but she is quite capable of having that all by herself with Stealth Strike, which grants her stealth status while dealing 75% damage to the enemy.
With the right team combinations, she'll be the biggest hurdle for your opponents because of her Survivor's Fury, which will come into action after the 300 TU requirement, and after that, she'll uphold the true meaning of her name and prove to be a calamity for the enemy units.
Ever heard of a perfect supporting character? I've got one for you. Even though I'm recommending her for Stealth, she is the best supporting character I've ever laid eyes on.
Ludmilla – The Paladin Bride
She is the ideal teammate due to her active and passive abilities; thanks to her divine guard ability, she will play both a supporting and tanking role.
Active Skills
Armor Attack, Aldyne's Shield [All], Step Back, and Heal Armor
Passive Skills 
With Divine Guard and Armor, you can heal entries.
Any damage will remove stealth; it's among one of the biggest disadvantages of the stealth status. Attacks are something that will happen every turn; it isn't some unique skill like purify that will remove the status effect, so there are slim chances of its success. That's why her divine guard is so crucial for the team, as it has a 100% chance of redirecting an attack to herself, which will definitely come in handy in times of need.
Her other passive skill allows her to heal when she enters the battlefield from the reinforcements, and she can be sent to be next in line for reinforcements with her step-back ability.
Shield of Aldyne and Heal Armor are both skills that allow her to heal her allies, but with Shield of Aldyne, she can heal everyone on the battlefield, although you can only use this ability once per battle, and Heal Armor allows her to heal one ally.
I suppose now you'll get why I called her the best supporting character you can get in the game.
Now all those characters above are SSR characters and no matter what they can be hard to get. So, here are some SR characters that can be used until you have got the best ones.
Esma – Bride of the Sea
Active Skills 
Attack Two, Grant Stealth, Quicken, and Give Turn
Passive Skills 
Auto Guard and Stealth Spirit+ Entry
Adena – Blue Hurricane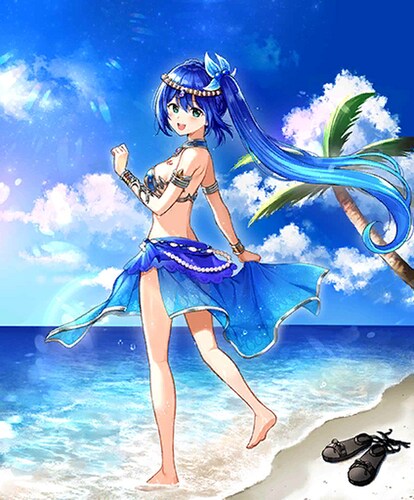 Active Skills
Attack, Stealth Charge, Stealth Fury, and Time Strike
Passive skills 
Stealthy Entry
Jayle – Horned God of Festivity
Active Skills 
Attack, Attack All, Stealth Fury and 
Passive Skills
Grant Stealth
The Evertale Stealth team build guide will help you create the perfect Stealth Team in Evertale Evertale Stealth Team Build CharactersElmina – Void RenegadeActive SkillsPassive SkillElmina – The Violet-Eyed AssassinActive skills Passive skillsMysha: Nine-tailed CalamityActive Skills Passive SkillsLudmilla – The Paladin BrideActive…